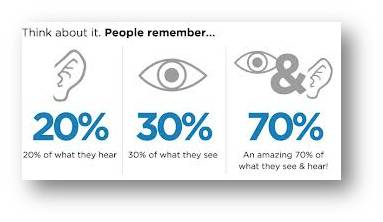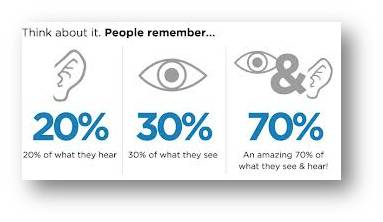 More and more websites have video as part of their content marketing effort.
That's great, because people like to watch videos, but how do you use videos to turn those watchers into leads?
That's the difference between using video marketing as part of an inbound marketing program versus simply using videos on your website or in a YouTube channel.
Here are a few of the ways we turn videos into money for our clients.
Video SEO – Video is a great inbound marketing tactic, and a great way to rank. Google, especially, is looking for video to rank. To make sure your videos rank, put them on YouTube and other video-sharing sites like MetaCafe and Vimeo. Make sure your keywords and questions are highlighted in the meta tags and meta descriptions for all of your videos. Make sure your script has both keywords and relevant questions in the actual audio files. If you select less popular keywords, you have a better chance of ranking more quickly than if you choose the most popular and competitive keywords.
Video And Social Media – Social media users love video, especially those using Google Plus, which has become a hotbed for video posts. Make sure that your videos find their way onto your social sites on a regular basis. People love sharing videos, so the more you post them, the more likely they are to be shared. Sharing is caring when it comes to Google. The more your videos get shared, the higher they're going to rank.
Video And The Sales Process – As much as your visitors want video, your prospects want video, too. Make sure that videos are an active component of your sales-related content marketing strategy. You should be sending videos strategically throughout your sales process. One easy way to include video is to make a Reference Reel. You know your prospects are going to want to talk to references. Instead of bothering the same three or four great clients, create a set of videos that you can send out to prospects proactively, before they even ask.
Video On The Web – Make sure your content marketing strategy includes video. This means that your website has to have a set of videos that answers the questions your prospects ask on a daily basis. Make sure your videos provide the answers, and add a call-to-action button for more information at the end of the videos. This allows you to give your prospects additional information, and potentially convert those prospects into leads.
Better yet, include a mixture of un-gated and gated videos. After prospects watch the un-gated videos, direct them to the more specialized or even more detailed gated content. This will improve the number of leads you get from your inbound marketing tactics.
Mapping Video To The Buyer Journey – One of the most frequently asked questions we get is, "What should our videos be about?" This is an easy question to answer when you know what questions your prospects are asking your sales team, or your customer service reps. Document these questions and start using video to answer them. Even your CSRs are able to send out links to videos while they are on the phone with customers. This is a brilliant way to improve customer service and drive people back to your website.
Once you have a list of questions from the beginning, middle and end of the sales process, you'll know exactly how many videos you need and what those videos need to be about. Schedule them out over time; you don't need to create them all in one day. Then, slowly deploy them into your sales and marketing. Follow the directions above and you are on your way to improving your ability to get found, get leads and close sales.
Start Today Tip – Most videos are easily produced with equipment that is readily available. This means you don't need any fancy equipment to make videos. But, don't skimp on sound. Your prospects are going to understand if the video looks homemade – we are all much more accepting of lower-quality video production. However, if they can't hear what you are saying, forget the whole project. Invest in a good-quality lavaliere microphone. This ensures that everyone can hear what you or your subjects are saying. Also, keep your videos under 3 minutes, and closer to 90 seconds if possible. If your videos are too long, viewers will lose interest.
Square 2 Marketing – Leading The Reality Marketing And Inbound Marketing Revolutions!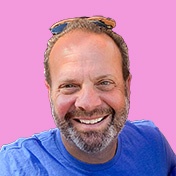 Mike Lieberman, CEO and Chief Revenue Scientist
Mike is the CEO and Chief Revenue Scientist at Square 2. He is passionate about helping people turn their ordinary businesses into businesses people talk about. For more than 25 years, Mike has been working hand-in-hand with CEOs and marketing and sales executives to help them create strategic revenue growth plans, compelling marketing strategies and remarkable sales processes that shorten the sales cycle and increase close rates.