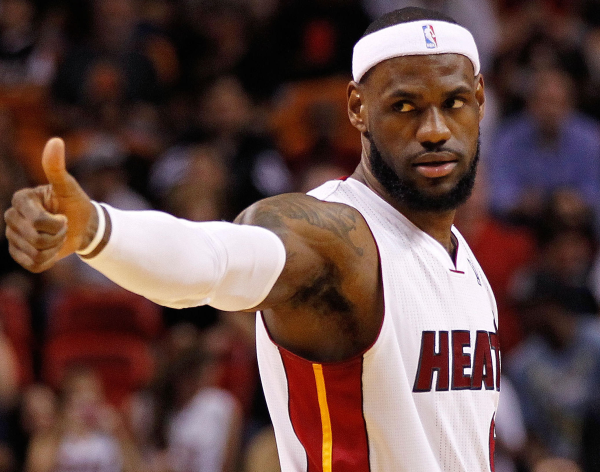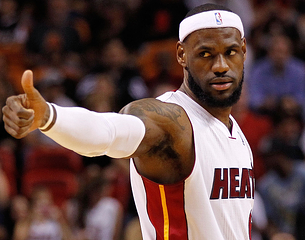 It's good to be the king. King James, that is. Unless you've been under a rock, or snowed in at the North Pole, you would know that LeBron James scored a career high 61 points in the Heat's 124-107 victory over the Bobcats in Miami on Monday, setting a new Heat franchise scoring record in the process.
That got us thinking: How do we, as marketers, set franchise records for leads generated in a day, week or even a month?
Step 1 – You Have To Be Tracking.
If you want to measure your success, you have to track it. The great Vince Lombardi once said, "If you're not keeping score, you're only practicing." You have to set goals for leads daily, weekly and monthly, and then you have to implement the tools to track those leads. If you don't have a tool in place now, consider adding it to your marketing strategy and plan for 2014. Tools like HubSpot, Marketo and even Salesforce.com can be implemented very quickly and for modest investments.
Step 2 – Set Your Goals.
You can't break any records of you don't have any goals. Establish your reasonable expectations for leads on a daily, weekly and monthly basis. You should start from real data; don't make these numbers up and expect them to come true. Look at where you are today. How many leads do you get from your website? If it's only one or two a month, don't shy away from that past performance; rather, embrace it and set goals to improve it. If you want some benchmarks to help set your own goals, consider this: Leads typically account for 1% of total website traffic to your site on a monthly basis. If your site gets 1,000 visitors, you should expect 10 leads a month, minimum.
Step 3 – Do Your Homework.
There are plenty of resources to help you get a head start on how to generate leads using inbound marketing. There are e-books, blogs, discussion forums, conferences and individuals, such as the Strategy Team at Square 2 Marketing, who would be happy to chat with you about your specific business, industry and situation. Get as much information from the inbound marketing community as you can in order to cut the learning curve a bit.
Step 4 – Practice. Practice. Practice.
Sure, LeBron has natural ability, but he also practices harder than any other player on the court. You have to practice, too. You won't be a lead-generating machine right out of the gate. You have to hone your craft, make mistakes and change your approach. You have to try different tactics until you get the perfect combination for your business in your industry.
Step 5 – Make A Game Plan.
LeBron goes into every game with a game plan. You also need a solid plan if you want to tackle inbound marketing. Make sure your marketing strategy is complete. Personas are not enough. If you don't have tactical details in your inbound marketing plan, you are going into the game at a major disadvantage.
Step 6 – Use All Of Your Tools.
If you know anything about LeBron James, then you know that he wasn't always such a prolific shooter. Over the past few years, he has developed a more complete game. During Monday's game, he shot 80% from behind the three-point line. That is unheard of. You need to make sure that you are using all of the inbound marketing tactics available to you and that these tactics are well integrated and well orchestrated.
You need blogging, active content creation, social media, video marketing, solid conversion strategy, a website with compelling messaging and solid differentiation, content and a website that works on all types of mobile devices. Also, search needs to be considered for every tactic, as it's no longer a standalone effort.
Once prospects engage with your company, you need active lead nurturing and email marketing campaigns to stay in front of them. You need to make sure that your content maps perfectly up and down the sales funnel and that your offerings are aligned with your buyer process.
Just like LeBron has to rebound, dribble, shoot threes, shoot foul shots, play defense, break the press, set picks, roll off the picks, pass to teammates and control the offense, you have to be equally adept at managing many different inbound marketing tactics, all running at the same time. That is the only way you are going to set any single game records for lead generation.
Speaking of records, here are some to shoot for. These are actual lead generation results from three different clients we've worked with over the years.
Single-Day Lead Generation – 259
Single-Week Lead Generation – 1,312
Single-Month Lead Generation – 3,019
Start Today Tip – The sooner you start practicing, the sooner you might realize results like those above. There's only one LeBron James. But, if you start putting the processes, practices and inbound marketing tactics in place today, you'll begin to see your lead generation improve dramatically. Eventually, you can set your own lead generation goals, continually improving what you do to continually improve your results – day after day, week after week and month after month.
Square 2 Marketing – Leading The Reality Marketing And Inbound Marketing Revolution!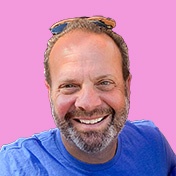 Mike Lieberman, CEO and Chief Revenue Scientist
Mike is the CEO and Chief Revenue Scientist at Square 2. He is passionate about helping people turn their ordinary businesses into businesses people talk about. For more than 25 years, Mike has been working hand-in-hand with CEOs and marketing and sales executives to help them create strategic revenue growth plans, compelling marketing strategies and remarkable sales processes that shorten the sales cycle and increase close rates.