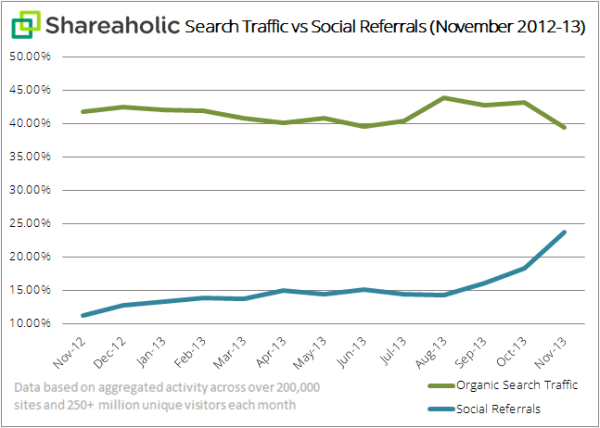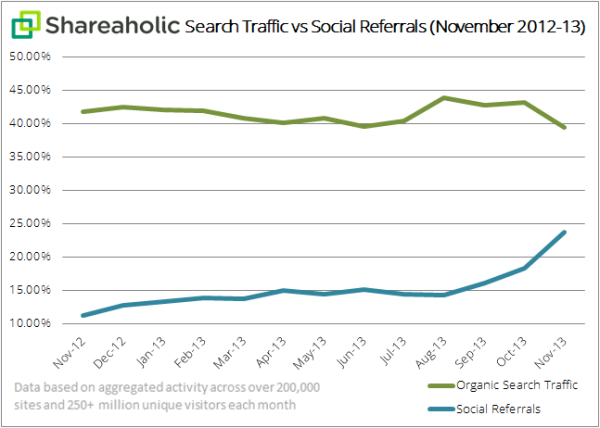 In the past six months, we have noticed that clients have been getting more and more website traffic directly from social media. In fact, some clients are now getting more traffic from social media than from organic search.
So, it was interesting to see this report come out yesterday validating our own client research.
Social discovery and sharing platform Shareaholic's report comparing search traffic versus social traffic over the last 13 months showed that search is a mature tool and social is still a relatively new one. The biggest trend to immediately jump out is that the former has started declining while the latter is still exploding.
In November 2012, search traffic accounted for almost 42 percent of traffic while social referrals were at just over 11 percent. In November 2013, search traffic had slipped a few percentage points while social referrals had more than doubled.
Here are Shareaholic's two biggest takeaways from the results:
Search's heyday is over; it's a mature channel. Organic search's share of visits to publishers actually dropped 6 percent. Search engines are more likely to see drastic growth in their personal market shares than they are to see substantial growth in the overall market. That's because everyone already references search engines when they need information.
Social media has barely outgrown diapers; things are just getting started. Referrals from the top five social media platforms more than doubled (growing 111 percent year-over-year)! People are more active on social media than ever. Yet social media is nowhere near full maturity. Indeed, this is just the beginning.
Neither of these observations are particularly mind blowing, but the chart above really sums up the bigger picture.
While search is pretty much flat (that 6 percent drop is easily regained in a few months' time), the interesting part is that social is catching up. And this isn't just because internet users typically stick to one search engine, but use multiple social networks.
No, the main reason is that of the many questions users ask search engines, their networks of friends, colleagues, peers, fans and people they follow are better able to answer. If you're in charge of figuring out where to spend your marketing dollars, your online budget should no longer solely consist of SEO.
So, what do savvy inbound marketing pros do to take advantage of this change? Here are a few strategy adjustments to consider in 2014.
Stop obsessing over keywords. Like it or not, Google is going to prevent you from seeing which keywords are driving search. That's because they don't want you focusing on keywords anymore. Get used to thinking in terms of questions to get the rankings you are looking for.
Don't neglect social media because you don't use it or don't understand it. Your prospects are hanging out on social media, whether you believe so or not. The numbers don't lie. The above report on traffic sources further validates that people are finding your business on social media, and if your corporate sites are lacking, your prospects are going to head over to your competitors instead.
Track traffic and leads from search and social to make decisions based on your company data. Analytics is more important than ever. You are going to need to know how many visitors are coming to your site from social and from search, but more importantly, how many leads you are getting from social versus search. Besides seeing an increase in social traffic, we are also seeing more leads from social than from search.
Make sure your search, social and other inbound marketing programs are tightly integrated. Today, it's likely that your social media sites are visited by the same amount of people as your website. If your social sites aren't up to par, these visitors may be thinking about doing business with your competitor.
Leverage highly creative and educational content across both search and social platforms. We have talked about the visitor experience over and over again. This couldn't be more important when you talk about driving traffic to your website. If you have educational offers on your website that are not on your social sites, you are definitely missing opportunities to drive leads.
If you execute these five inbound marketing program adjustments in 2014, you'll see your organic website traffic numbers rise, your lead generation numbers rise and likely your overall revenue figures rise, as well.
Start Today Tip – First, stop looking at how you rank for individual keywords. It's a moving target and irrelevant to the performance of your business. Take a good hard look at your social media properties and evaluate their current condition. Make sure you include Google Plus in that evaluation. This often neglected social media site is picking up speed and its relevance to Google can't be overlooked.
Make sure that the experience prospects get on your website is the same experience they get on all of your social media sites. Then, keep track of the numbers. How many people came to you from social and how many from search? How many were leads and how many people are connected with you on social media? That reach number is just as important as the number of email addresses in your contact database.
Square 2 Marketing – Leading The Reality Marketing And Inbound Marketing Revolutions!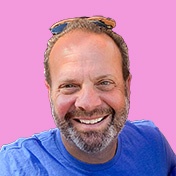 Mike Lieberman, CEO and Chief Revenue Scientist
Mike is the CEO and Chief Revenue Scientist at Square 2. He is passionate about helping people turn their ordinary businesses into businesses people talk about. For more than 25 years, Mike has been working hand-in-hand with CEOs and marketing and sales executives to help them create strategic revenue growth plans, compelling marketing strategies and remarkable sales processes that shorten the sales cycle and increase close rates.