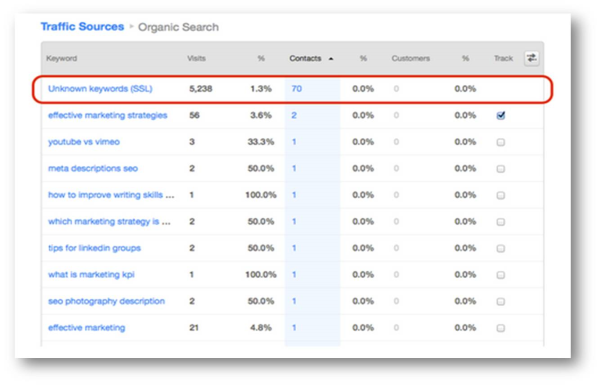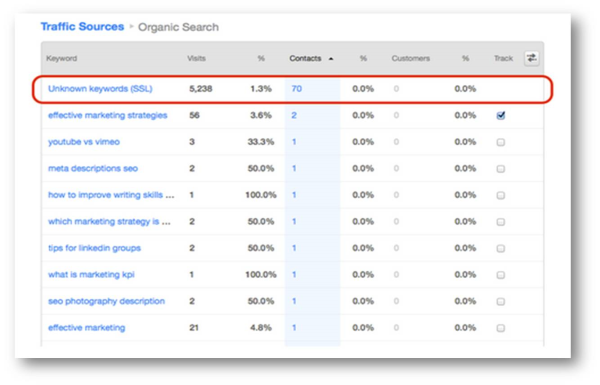 Inbound marketing just got a little bit harder. Actually, all online marketing just got harder.
Yesterday, Search Engine Land reported that Google has made a change aimed at encrypting all search activity – except for clicks on ads.
When approached by Search Engine Land, Google reportedly confirmed the switch, stating the following:
"We added SSL encryption for our signed-in search users in 2011, as well as searches from the Chrome omnibox earlier this year. We're now working to bring this extra protection to more users who are not signed in."
What this means is that marketers won't be able to get keyword data for searchers who AREN'T logged into Google. To read more about the changes, click here to see a post from the HubSpot team.
Take a look at the image included in the post. The words at the top of the report are the ones impacted by the change. You might remember the phrase, "unknown keywords."
Right now, most of our clients see only a small percentage of keywords falling into this "catch all" category. But this is going to increase significantly as Google implements the change.
So while we can't do anything about Google, we do need to know how to change our inbound marketing tactics to deal with this change.
As the Chief Marketing Scientist at Square 2 Marketing, my job is to work with our team in creating new methods to optimize all the inbound marketing tactics available to our inbound marketing agency. One insight I can provide is that inbound marketing has always focused on SEO-optimized content, and since that generally focuses on a single or small set of keywords, you can still track SEO performance at the landing page level.
Here are some other changes our team suggests you should consider:
Create More Content, More Often – This change reinforces something we have been saying for a long time. The more highly educational and widely creative content you create, the more website traffic and leads you generate for your business. But perhaps the change does indicate another aspect to consider, and that is the pace at which you create content. In the past, adding one or two written pieces a quarter was probably fine. Today, you are going to need to consider creating something new once a month, and perhaps even more frequently in the future. Get ready to write!
Keep Blogging And Pick Up The Pace – Blogging has been a huge part of how we recommend clients drive new visitors to their websites. Want more traffic? Blog more. This is now increasingly important due to Google's change. If you are blogging once a month or once a week, it's time to pick up the pace and consider blogging three or four times a week. Blogging puts a fresh, indexable page on your website every single day, and regardless of the keywords you are using, it will help you rank naturally on all major search engines.
Social Media Is Now More Important Than Ever – We have been advocates of proactively growing your social media networks for a long, long time. Today, that might be even more important. You need fans, followers, subscribers, connections and friends to make sure your content is shared across all the social media marketing sites. Make this a strategic initiative for your company and your website traffic numbers will grow accordingly.
The good news: you will be able to continue to drive visitors and leads from your website. Yahoo and Bing will continue to share keyword search data; however, with Google grabbing 67% of the search marketing, you will need to start integrating the changes suggested above to keep you in the game.
Start Today Tip – You might have to switch some focus and financial resources towards areas you once viewed as secondary priorities. Blogging is no longer optional, and I suggest that blogging once a week is no longer optimal. Consider moving to a weekly pace that includes three posts per week minimum. Social media, regardless of your business or industry, must get your full attention. The larger your networks, the more likely you are to drive traffic to your website once you create interesting content. Perhaps more importantly, the more your content is shared, the easier it will be to drive rankings on Google.
Square 2 Marketing – Leading The Reality Marketing and Inbound Marketing Revolution!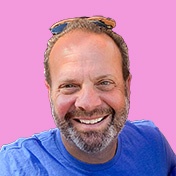 Mike Lieberman, CEO and Chief Revenue Scientist
Mike is the CEO and Chief Revenue Scientist at Square 2. He is passionate about helping people turn their ordinary businesses into businesses people talk about. For more than 25 years, Mike has been working hand-in-hand with CEOs and marketing and sales executives to help them create strategic revenue growth plans, compelling marketing strategies and remarkable sales processes that shorten the sales cycle and increase close rates.