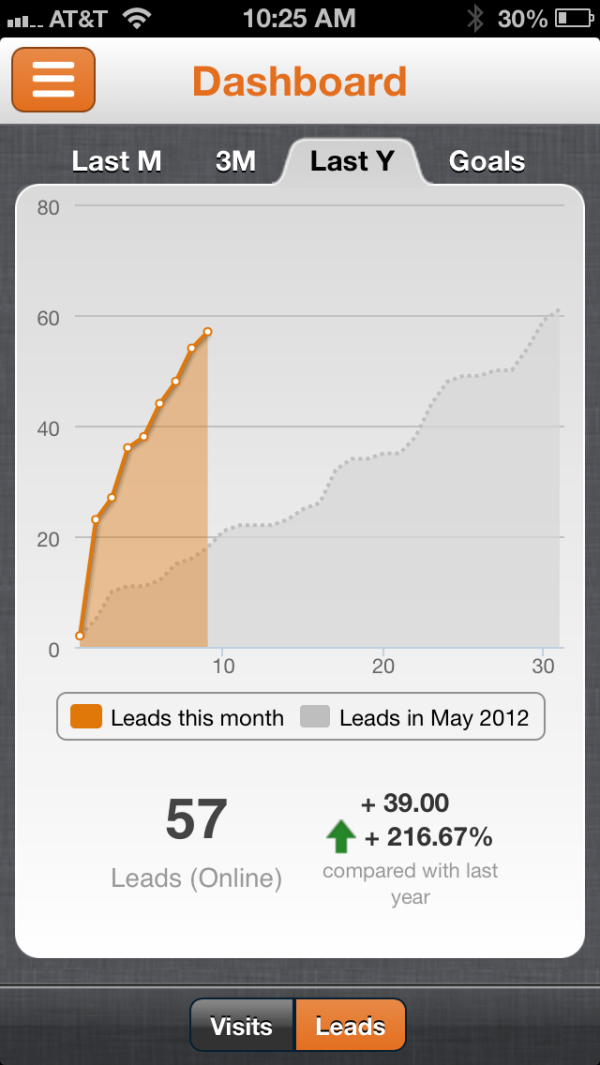 Now that you're asking the right question, you have to be prepared to review the performance of your new lead-generating inbound marketing program.
The way you do that is with marketing analytics software.
You could create your own reports in Excel (like we used to do), but today there are so many analytical packages available that doing it yourself is a complete waste of time.
The analytics available from Google Analytics, HubSpot, Marketo or any of the other marketing automation tools are all amazing.
Take a look at the iPhone app (image to the right) available from HubSpot. Using this tool, we check website traffic and leads constantly over the course of the day.
Once your marketing strategy is lead-oriented and has a quantitative measure associated with it, then you can look at your entire inbound marketing program and make sure it delivers on the company's goals.
Access to data gives you the intelligence to make decisions in real-time. Just like you are now asking the right question, you now have access to the right data.
A variety of famous business people like Peter Drucker, Tom Peters, Edwards Deming, Lord Kelvin and others have been attributed with the quote, "What gets measured gets done."
First, you have to plan for enough activity in a given month to get you to your goals. Do you have enough blog posts? Are you publishing enough content to drive enough new visitors? Are you adding enough original educational content to your website to generate enough leads? Are you ranking for your best keywords? Are you converting visitors into leads? How are you doing turning those leads into sales opportunities? How are you nurturing those new leads to share additional content with them and how are you sharing your new content across social media networks?
This is where a monthly review and planning session should become part of your standard operating procedures.
If the data shows you're not on track to hit your goals, you have to up your level of activity. If you are still behind in the middle of the month, then you have to make adjustments. These adjustments have to be rolled into the plan for the next month. Now your marketing has an air of continuous improvement and month over month you see your results improving.
Planning is great, but even the best plans don't always work out as expected. So constantly monitoring performance is critical. Today, you can make real-time adjustments that impact your inbound marketing program performance right now—not in three months.
When I see traffic is down, I do something about it. When I see leads are down, I do something about it. This is the same approach we take with our clients and an approach you should consider taking with your new inbound marketing program.
Just as you changed your perception of what specific marketing tactics should be asked to do—get you leads—now you have to change your perception again and make sure you or someone close to you is tracking the performance of your new inbound marketing program day in and day out.
Start Today Tip – You can start applying the marketing metrics approach to your current marketing. Just start reviewing analytics. Google analytics is free. While it might not be perfect or easy to understand, it can be customized to include everything you need to get a metrics perspective on your marketing. If you want something a bit more robust and easier to use, then consider HubSpot or Marketo. HubSpot's dashboard and drill-down analytics make reviewing your marketing performance a simple 15-minute exercise.
Square 2 Marketing – Leading The Reality Marketing and Inbound Marketing Revolution!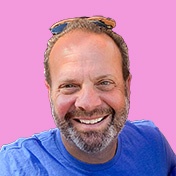 Mike Lieberman, CEO and Chief Revenue Scientist
Mike is the CEO and Chief Revenue Scientist at Square 2. He is passionate about helping people turn their ordinary businesses into businesses people talk about. For more than 25 years, Mike has been working hand-in-hand with CEOs and marketing and sales executives to help them create strategic revenue growth plans, compelling marketing strategies and remarkable sales processes that shorten the sales cycle and increase close rates.