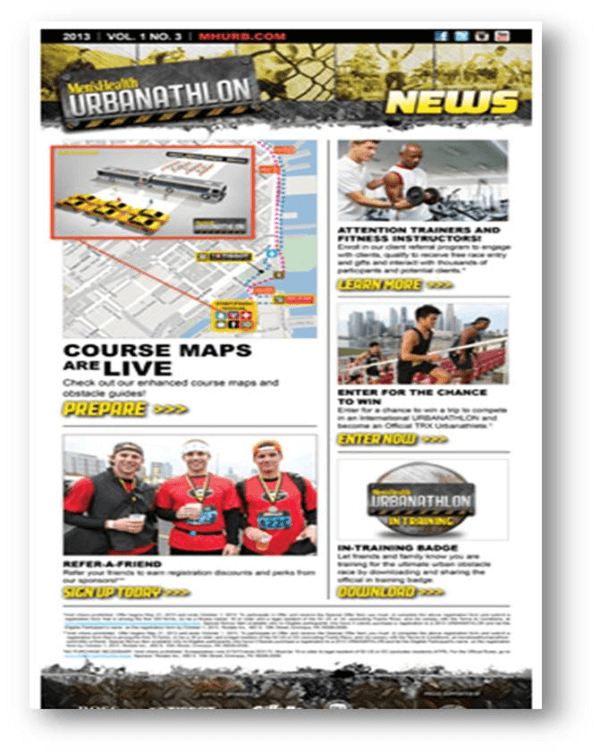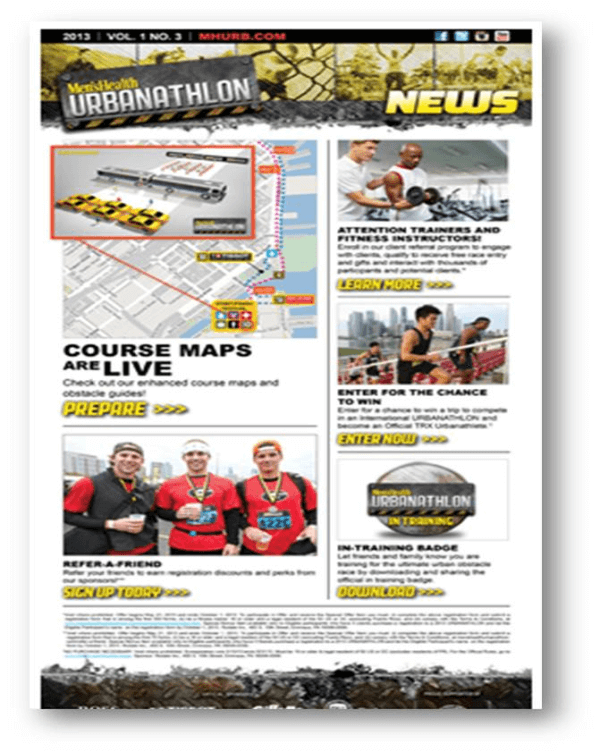 Almost everyone does some type of email marketing these days, but most of the emails I see still need a major makeover.
For instance, I got the email pictured here yesterday from Men's Health. Unfortunately, it didn't have a single link—mistake? Probably, but mistake or not, the whole reason you send out email campaigns is to drive traffic to your website via links.
Today we thought we would feature a few of our favorite email marketing campaign subject lines and some recommendations on how to improve these subject lines. Keep in mind these are real subject lines from real emails that I've received over the past few months. Enjoy!
Subject Line 1 – Our June Newsletter
You would be surprised how many times we see subject lines like this. You would be even more surprised by how many people defend this subject line. "People know us and they are expecting to see our regular monthly newsletter." This should never be the subject line for any email marketing. It screams ORDINARY, SKIP ME and DELETE. If you are going to do a newsletter-style email, select the best article summary and select a subject line that entices your readers to WANT to read about the topic.
Makeover – Anything is better than this.
Subject Line 2 – Free Job Postings To 40+ Job Boards
This one is a little better. However, using "Free" in the subject line is going to help your email get caught in a lot of spam filters. Free is actually one of the most popular spam filter flags. To make over this subject line, I would have used a question. Questions are great subject lines because they encourage readers to answer and that typically requires them to open the email. Real numbers also increase open rates as well. People believe in numbers.
Makeover – Want To Reach 2,000,000 Qualified Candidates In Just 10 Seconds?
Subject Line 3 – Introducing The Mid-Roll Links Lab
The lesson learned here is about keeping it simple and not using any jargon. While I am sure someone knows what a "Mid-Roll Link Lab" is, I don't and this email was sent to me. If you are curious enough to do some research, you might discover that Mid-Roll Links are another name for clickable buttons on web-based videos. Of course, by the time you do that research, chances are you're not going back to your inbox to click on that obscure link. Make your subject lines about your prospects, not about you, and leave the fancy jargon behind.
Makeover -- See How Clickable Buttons In YouTube Videos Drive Leads
Subject Line 4 – Tax Savings For Business Owners
Okay, I know it's hard coming up with great email subject lines month after month, but don't give up and settle for this. Yawn! The goal of your subject line is to quickly (in just three seconds) stand out in a prospect's inbox. Take a stand. Be bold. Challenge your audience.
Makeover -- Business Owners Only: We'll Find You Tax Savings in Ten Minutes
Subject Line 5 – Long Term Care Insurance Pays $6.6 million In Benefits
The use of headline style news is also common in email marketing. Again, common is the opposite of what we are going for from a marketing perspective. Remember, everyone is doing this and you want your email to stand out. This is a perfect opportunity to help your readers translate this news into what it means to them.
Makeover – Retain Senior-Level Employees With Long Term Care Insurance Benefits
Subject Line 6 – It's Hot Out There, How Are You Hydrating?
I included this subject line because there is more good than bad here and I like to share good marketing as well as bad. First, this subject line is seasonal. It is HOT out! It includes the question I mentioned earlier and it has me wondering… am I missing something? This is exactly what you want your readers to be thinking.
Makeover – None required.
Subject Line 7 – How To Manage Account Staffing And Workload
This subject line has potential. Remember the audience: agency owners. The staffing challenges are big ones, so they were on the right track, but it's just not compelling enough to get my attention. Perhaps if they teased it up with more about the solution.
Makeover – Five Secret Ways To Eliminate Account Staffing And Workload Challenges
Subject Line 8 – 15% Discount This July 4th Weekend
There is nothing good about this subject line. Discounts are like opinions, everyone has them. They don't differentiate and likely attract ONLY those people who were going to be shopping your store anyway. Why give them a 15% discount?
Makeover – Add Sparks To Your July 4th Weekend With The Most Popular Beach Books
It's not easy coming up with great subject lines for your email marketing campaign. But if you don't, you can expect mediocre to poor results, ever increasing opt-out rates and a marketing tactic that isn't contributing to your overall marketing goals.
Take the time to punch up your subject lines and you should expect a significant increase in open rates, click-through rates, forwards and a major drop in opt-outs. It's worth the effort.
Start Today Tip – Start looking at your editorial calendar for your email campaigns. Work on a handful of subject lines each day for a week. Now you have a list of compelling subject lines to work with when you start your email marketing campaigns. Track and test the subject lines and make adjustments monthly to see improvements in all your key metrics like open rates, click-through rates and opt-outs.
Square 2 Marketing – Leading The Reality Marketing and Inbound Marketing Revolution!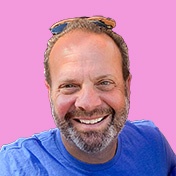 Mike Lieberman, CEO and Chief Revenue Scientist
Mike is the CEO and Chief Revenue Scientist at Square 2. He is passionate about helping people turn their ordinary businesses into businesses people talk about. For more than 25 years, Mike has been working hand-in-hand with CEOs and marketing and sales executives to help them create strategic revenue growth plans, compelling marketing strategies and remarkable sales processes that shorten the sales cycle and increase close rates.