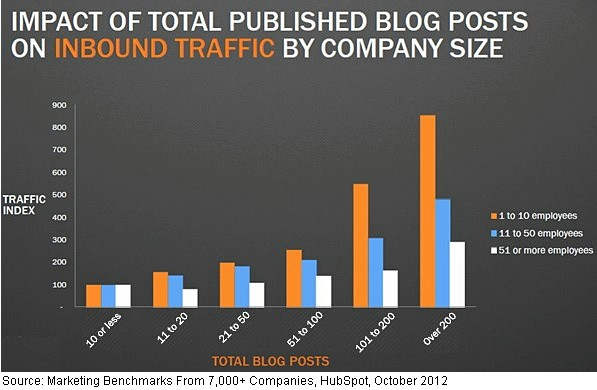 If you want to break down inbound marketing to its core, you have inbound marketing services that drive website visitors and you have another set of inbound marketing services that turn those visitors into leads.
Companies that increase the number of blog posts they publish via their website each month can boost their inbound traffic levels and lead counts, according to a new report by HubSpot.
On average, companies that publish 15 or more blog articles per month generate five times more web traffic than companies that don't blog at all. Those that blog 9-15 times per month generate three times more traffic than companies that don't blog. To read more about it, click here.
Blogging drives website visitors because published content gets indexed in search engines and shared via various channels, including social media. By committing to regularly publishing blog content, you build up a powerful arsenal of content, with each article published creating another inroad to a website.
When companies boost their blogging efforts, web traffic volume increases in varying degrees:
On average, companies generate a 45% lift in traffic when they increase the number of published blog posts from 11-20 articles to 21-50 articles.
B2C companies generate a 59% increase in traffic after growing total published blog articles from 100 to 200.
Blogging efforts also appear to impact lead generation:
Companies that have published more than 200 blog articles generate 5 times more leads than those with 10 or fewer posts.
B2B companies that blog only 1-2 times per month generate 70% more leads than those that don't blog.
Surprisingly, B2C companies generate a bigger lift in leads as they grow their arsenal of blog posts.
Companies that increase the number of blog posts from 3-5 per month to 6-8 per month nearly double their monthly lead count.
Using social media also boosts traffic:
Companies gain a 185% lift in traffic after achieving 1,000 Facebook likes.
Companies with 51 to 100 Twitter followers generate 106% more traffic than those with 25 or fewer followers.
The world would be a little easier if it was just about quantity. Unfortunately, it's not. Quality has to be at least 50% of the equation.
If you want your readers to share your content, it has to be educational, exciting and maybe even controversial. We regularly encourage our clients to take a stand, push a position, be contrarian and be different.
The more interesting your blog post, the more people will read it, share it and comment on it. All of this sharing, commenting and clicking helps you rise up in the search rankings. After all, Google, Yahoo! and Bing are looking for interesting content to present to their customers too.
Once you get the quantity and the quality formula down, it's just a matter of time before your website traffic increases and you have the ability to turn all those new visitors into leads for your business.
Start Today Tip – Blogging isn't hard. What's hard is blogging correctly. One of the best tips we could give you is to plan for it. Start with an editorial calendar of potential blog topics that have your keywords prominently featured in the blog title and in the first few paragraphs of the blog content.
Remember, you're not blogging for your health. You are blogging to drive search rankings and new visitors to your site. Make sure you blog three to five times a week. You can start more slowly, but the faster you work up to that pace, the more visitors you will attract. Keep track of the stats and make sure total visitors are up month over month.
Square 2 Marketing – Leading The Reality Marketing and Inbound Marketing Revolution!
About the data: Findings are based on the analysis of data collected among 7,000 companies that use HubSpot's Inbound Marketing platform. The data was collected in July and August 2012.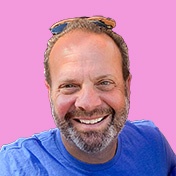 Mike Lieberman, CEO and Chief Revenue Scientist
Mike is the CEO and Chief Revenue Scientist at Square 2. He is passionate about helping people turn their ordinary businesses into businesses people talk about. For more than 25 years, Mike has been working hand-in-hand with CEOs and marketing and sales executives to help them create strategic revenue growth plans, compelling marketing strategies and remarkable sales processes that shorten the sales cycle and increase close rates.