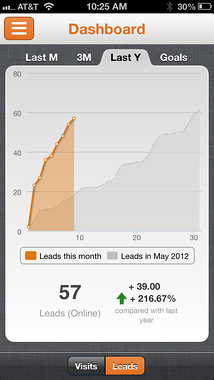 When I was a kid, I always fantasized about being able to predict the future. I wanted to know the winner of the upcoming Super Bowl. I wanted to be able to buy the next hot stock before it became Google.
Today, I have seen the future and it's inbound marketing.
Even more specifically, the future of marketing is being able to impact lead generation with the click of a button. Take a look at the picture to the right. This is an actual snapshot from my iPhone.
In seconds, I can see the number of leads generated by our inbound marketing program as compared to last month, last year, a rolling three months and compared to a goal we established for our company.
I don't have to wait for reports to be generated or data to be aggregated. With the click of a button, I see marketing performance in real-time. The implications of access to data like this are game changing.
If we see website traffic is down, we increase our efforts to publish and share existing educational content, increasing the amount of visitors to our website.
If we see that traffic is up, but leads are down, we create new educational content and put it on our website to convert more visitors into leads.
We have an active inbound marketing strategy that guides our content marketing efforts, ensuring that the educational content we create appeals to our target market and is synchronized with our ongoing lead nurturing and blogging activities.
The results from this proactive vs. reactive approach to marketing have been astonishing. Overall website traffic is up by a factor of ten. Each month our website sets new traffic records. Leads which were around two to three a week just 12 months ago are now pushing 50 per week.
There is a saying, "what gets measured, gets done." We have found this to be true. Once we started tracking inbound marketing program performance, our key performance metrics like website traffic, conversion rate and leads generated started increasing month over month.
Everything we do internally and as part of our client engagement is driven by metrics. We establish baseline performance measures for each client at the start of the engagement and plan for modest growth month over month. We measure our performance against those goals and adjust each month.
We don't always get our predictions exactly right, but we know exactly what to do, when to do it and how to do it. Honestly, some months we over-achieve—making the next month just a little easier.
Over time, the continuous improvement aspect of inbound marketing starts to accelerate the results exponentially. As more people subscribe to your emails, your blog, your social media networks and start to read your educational content, the inbound marketing machine you created takes on a life of its own.
The results in year two are far more significant than in year one with the same or even a lower investment required to sustain it. But yes, you do have to sustain it. If you stop creating content, sharing content and nurturing your leads, the results retract to pre-program levels and you will have lost any momentum gained from previous efforts. You don't want to do that.
Look around. People won't start watching commercials, reading direct mail and paying attention to advertising. Inbound marketing is ONLY going to get bigger and more effective. You have an opportunity to see the future, take advantage of this insight and start planning for your company's inbound marketing effort.
Start Today Tip – Take a few minutes to dream. Would you like to have all the leads you need come directly to your company? Would you like to have sales people who sift through the leads and decide which ones offer the best opportunities? Would you like to automate the communication to your best qualified leads, so that each of them hear the perfect stories about your company? Wouldn't it be great if you didn't have to compete on price? What about the money you invest in marketing, don't you want to know exactly how many leads and revenue that investment generated? Today, inbound marketing allows you to do all of this and more.
Square 2 Marketing – Leading The Reality Marketing Revolution!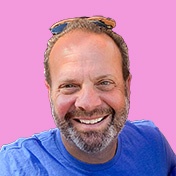 Mike Lieberman, CEO and Chief Revenue Scientist
Mike is the CEO and Chief Revenue Scientist at Square 2. He is passionate about helping people turn their ordinary businesses into businesses people talk about. For more than 25 years, Mike has been working hand-in-hand with CEOs and marketing and sales executives to help them create strategic revenue growth plans, compelling marketing strategies and remarkable sales processes that shorten the sales cycle and increase close rates.