Yesterday we talked about how to get more prospects to your website. If you missed it, click here to read the blog post. Today we are going to unveil three secrets to getting more of those people who are visiting your site to turn into leads.
The math from yesterday's post has a lot to do with today's post. If your website is getting 500 visitors a month, and you are converting 1% (this is average) from visitors into leads, that means your site is kicking out about 5 leads a month. If you increased the conversion rate from 1% to 2%, you would double the amount of leads—without having to increase the number of visitors. Increase the conversion rate from 1% to 3% and you go from 5 leads a month to 15 leads a month—again, without having to drive any new visitors to your site.
If this doesn't get you excited—you might not be breathing. But hold on, it gets better. Now take what we learned yesterday and what we are talking about today and combine them. Take your site from 500 visitors a month to 1,500 visitors a month and increase your conversion rate from 1% to 3% and you end up with a Marketing Machine that is generating 45 leads a month for your business. Does that get you excited?
Here are the three improvements you can make to your website to drive up that conversion rate to 3% and even higher.
Add offers

– Most websites have only two offers, "call us" or "fill out this form and contact us." OK, but what if I'm not ready to call you or contact you? Most sites simply let those potential leads leave, usually pushing them over to a competitor. Limiting your website design to only a phone number or Contact Us page means you are missing out on prospects who like you, but aren't ready to talk to you yet.

Add the Trio of Offers as part of a well thought out conversion strategy to make sure you are engaging prospects the way they want to work with you. First, give them a No Risk Offer. This is educational information like an ebook, whitepaper, or research study that they download from your site in exchange for their email address.

Then, give them a Low Risk Offer. This is more educational information like a webinar, live seminar invite or no-obligation assessment. These offers require more information to register, but in exchange you are offering much more education. Prospects a little farther along in their decision-making process will sign up for these offers.

Finally, don't just go with Contact Us—give them a more interesting Direct Business Offer that provides ideas or suggestions on how to improve their business or solve their pains. Our firm offers a variety of Direct Business Offers like a Free Website Assessment, Free Marketing Grader Report, or a Social Media ROI Review. These offers provide prospects a lot of value—in exchange, you get to know them and potentially turn a visitor into a real sales lead.



Make sure the site is about them and not about you –

It is very easy to talk about you

—

your building, your people, your process, your services and your history. At the same time, it's hard to talk about your prospects' challenges. As a result, most business owners, CEOs and marketing people default to the easy option. Unfortunately, your prospects don't really care about you. They only care about how you are going to help them.

This is a major mistake most people make with their website design. See if your site passes our Red/Blue Test. Each time your home page says "our," "we," "us," or the name of your company, circle it in red. Each time your home page mentions "you" or "your," circle it in blue. If you have more red circles than blue circles, consider reworking the messaging on your site to speak directly to the needs of your prospects. Your website has to be about your customers if you want them to connect with your company.



Add video –

The second most visited website on the planet (behind Google) isn't Yahoo or Bing—it's YouTube. Your prospects love to watch video. The world's population is made up of approximately 63% visual learners. Our eyes are on the front of our faces so we can see 3D images and process shapes.

Adding video to your website and using it to educate your visitors will enhance their experience and improve conversions on the site. Stick with "how to" videos or "testimonials" from real people telling real stories about how your company helped them with a real challenge.
There are many more website design enhancements that can be added to increase conversion rates, but these are the top three we've found. Each one has proven itself over and over again, contributing to the most significant gains for our clients.
Start Today Tip – Adding these three elements to your current website won't be easy. But the sooner you start, the sooner your leads will start coming in. All three of these changes take thought and planning and it might be a good idea to consult with an inbound marketing firm who has made similar changes to similar businesses and delivered the kind of results you are expecting. They will get it done faster and, in the end, it will cost you less than trying to do it yourself. If you do try to go it alone, don't try to do it all at once. Start with your offers and then move on to redoing your home page copy to make it about your prospects and not about you. When that's done, move on to adding video.
Square 2 Marketing – Leading The Reality Marketing Revolution!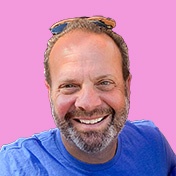 Mike Lieberman, CEO and Chief Revenue Scientist
Mike is the CEO and Chief Revenue Scientist at Square 2. He is passionate about helping people turn their ordinary businesses into businesses people talk about. For more than 25 years, Mike has been working hand-in-hand with CEOs and marketing and sales executives to help them create strategic revenue growth plans, compelling marketing strategies and remarkable sales processes that shorten the sales cycle and increase close rates.