If you have ever heard a single musical instrument and then a full orchestra playing together, you know the difference is significant. The same applies to inbound marketing. To make it hum, you need a full complement of marketing tactics working together to make it work and work well. Adding one or even two new inbound tactics won't get you to your goals. You need a complete set of tactics integrated and orchestrated to help your business get found, get leads and drive sales.
Here is an example. Most of you reading this already have a website design and it's probably a nice looking site. Now you add a few new inbound marketing tactics to your site like a new Free Report with a fancy call-to-action button and a landing page.
The result is likely to be an increase in conversions and a couple of extra leads for your business. But you did nothing to increase the number of visitors coming to your site and you didn't really do all you could to get more leads for the business from your website.
You are either all in on inbound marketing or you're not. You are either doing everything you can to increase web visitors, convert those visitors into leads and then nurture those leads to closing OR you are leaving opportunities behind. The sooner you go "all in," the sooner you get the benefits of an integrated inbound marketing program for your company.
Here is where the example above went wrong. The Free Report is nice, but what about the 63% of people who prefer to watch a video? You need videos to be a part of your content marketing strategy. Videos also help with search engine optimization.
You need a blog on your website. Blogging allows you to add indexable pages to your site daily—the more you blog, the better your results.
What about the website itself? You didn't do anything to make sure the site was optimized. You didn't agree to a set of strategic keywords that are going to drive all the content development on each website page. You didn't rework the messaging on the site to grab a visitor's attention and emotionally connect them to your company.
You didn't create a full set of offers for prospects at all stages of the purchasing life cycle. This typically includes webinars for those who are a little farther along and want to see for themselves how your company helped other businesses like them. What about a compelling Direct Business Offer? "Contact Us" just doesn't cut it anymore.
As you start to get more leads, you have to consider how you nurture those leads. Remember: people don't want to be sold to anymore. Now you have to use content to move them through your sales funnel, but move them through at their pace, not yours. How much content do you need? What kind of content? Who is going to write it? What about designing it? That's right, if you do an ebook or infographic those pieces have to be visually appealing and designed by a trained graphic designer.
Yes, it sounds very complicated. Unfortunately, inbound marketing is much more complex than traditional outbound marketing ever was, but the benefits far outweigh the challenges.
Inbound marketing is 100% trackable and this data gives you real-time insight into what's working and what's not. This insight means you can stop non-performing programs, save the money and double down on the tactics that are driving real results.
Inbound marketing is far more efficient simply because it matches today's buyer behavior. Your prospects don't want to be sold to; they don't want to be pestered for an appointment or pushed into accepting a proposal. They want to be educated, advised and counseled along the way. Inbound marketing gives you all the tools to do exactly that.
Let's face it. You are going to have to change. You can start to change now, or wait until your largest competitor is already doing it and then you can try to catch up. Inbound marketing isn't immediate, but it works. The sooner you start, the sooner you get found, get leads and close sales.
Start Today Tip – Review your current set of marketing tactics. How many of them are inbound-oriented? Do you have enough to really move the needle? We have seen clients generate significant improvements in both traffic and leads. If you aren't seeing that kind of movement, then you probably don't have enough inbound marketing tactics integrated into your program. There is a recipe, an optimal way to pair inbound marketing programs together to deliver results. Keep trying or reach out to a company with a proven track record of helping businesses like yours achieve inbound marketing success.
Square 2 Marketing – Leading The Reality Marketing Revolution!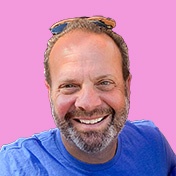 Mike Lieberman, CEO and Chief Revenue Scientist
Mike is the CEO and Chief Revenue Scientist at Square 2. He is passionate about helping people turn their ordinary businesses into businesses people talk about. For more than 25 years, Mike has been working hand-in-hand with CEOs and marketing and sales executives to help them create strategic revenue growth plans, compelling marketing strategies and remarkable sales processes that shorten the sales cycle and increase close rates.