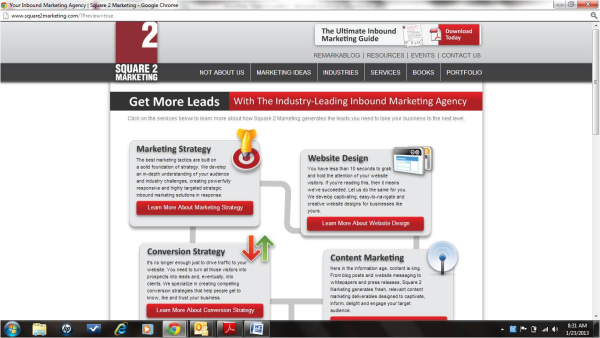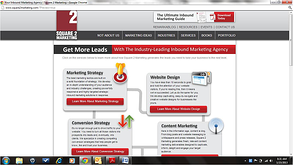 It's not often the inbound marketing agency rolls out a new website and shares all the key ingredients with its friends, fans and followers. Today is that day.
In case you didn't notice, Square 2 Marketing rolled out its latest in inbound marketing website technology when it made its new site live yesterday afternoon. This site, 12 months in the making, includes the latest thinking in conversion strategy and onsite search engine optimization.
Here are the 9 hidden gems you need to notice when you take a look at the new Square 2 Marketing website.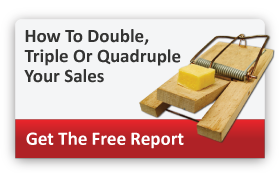 1. New design and optimized CTA buttons – After months of testing different designs and different combinations of copy and visual elements, the CTA (call to action) buttons on the site are optimized for conversions. The bright use of colors and graphics grab people's eye and the headlines close the deal. Our goal is to increase overall site conversions from 1.2% to over 3%. This would mean an increase in leads from 60 a month to 150 a month.
2. Optimized landing pages – After the CTA button, the most significant factor in getting the conversion is the landing page. Again, after months of testing and analysis of best practices, the landing pages on this site are highly optimized to increase the conversion rate. Landing page conversion rates can be as high as 40%. Our averages were around 25% on the previous site and we expect this site's landing page conversion rate to be over 40%. Click here to see one.
3. Search optimized content – After a lot of research and discussion, our site is optimized for 10 strategic keyword phrases. While we have close to 1,000 keywords on the site, we decided to drive hard on these 10 keywords. These words are strategically linked to throughout the site and have content specific to these phrases all over the site.
4. Offer testing – The Trio of Offers are prominent all over the site now. No Risk Offers for people who aren't ready to speak with us, Low Risk Offers for people who want to spend a little time learning more about inbound marketing and how to use it and, of course, Direct Business Offers for people who want to connect with us right now. These offers are prominently placed all over the site to improve conversion rates.
5. Strategic placement of content – Educational content is strategically placed along the right side of almost every page. Our data and our own research showed that people are more likely to click on offers when they are consistently presented, presented graphically, and grouped together. This site delivers. Click on the Marketing Strategy page to see an example.
6. Enhanced story telling – From the new home page and through every page on the site, we have improved our ability to tell stories to visitors quickly, visually and with impact.
7. Use of video – Video on your website is a must-have these days. People want to watch video and they connect emotionally with what they see on video. We have used video throughout the site to increase the user's experience and help us tell a more compelling story. Check out our video marketing.
8. Enhanced validation – Let's face it. Your prospects don't really believe you. They know you are trying to sell them. But they do believe your customers and using case studies, video testimonials and success stories all over the site help provide that required third-party validation.
9. Goal Oriented Design – You have to make sure that your website is singularly focused on one goal: driving leads. We didn't redesign this site just to make it look better, we redid it to improve conversion and lead generation. Stay tuned as I am planning on providing actually data from the new site as compared to the old site.
Planning on redoing your website? Take a few minutes and go through this site. Make sure your new website design has all the elements you read about here and saw, firsthand, on our site.
Start Today Tip – Take an inbound marketing inventory of your own website. Better yet, run it through the Website Grader Tool to get a quantitative score on your site. More importantly, start looking for the 9 elements we outlined here and make sure your site has them. If it doesn't, now might be a good time to consider a website redesign project.
Square 2 Marketing – Leading The Reality Marketing Revolution!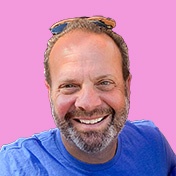 Mike Lieberman, CEO and Chief Revenue Scientist
Mike is the CEO and Chief Revenue Scientist at Square 2. He is passionate about helping people turn their ordinary businesses into businesses people talk about. For more than 25 years, Mike has been working hand-in-hand with CEOs and marketing and sales executives to help them create strategic revenue growth plans, compelling marketing strategies and remarkable sales processes that shorten the sales cycle and increase close rates.