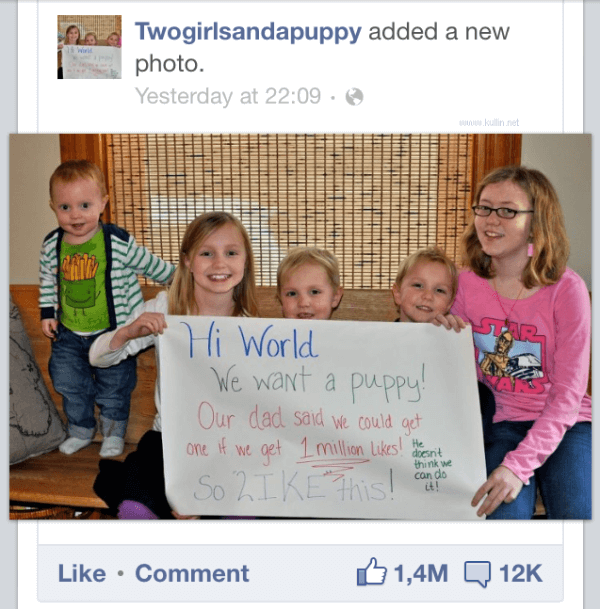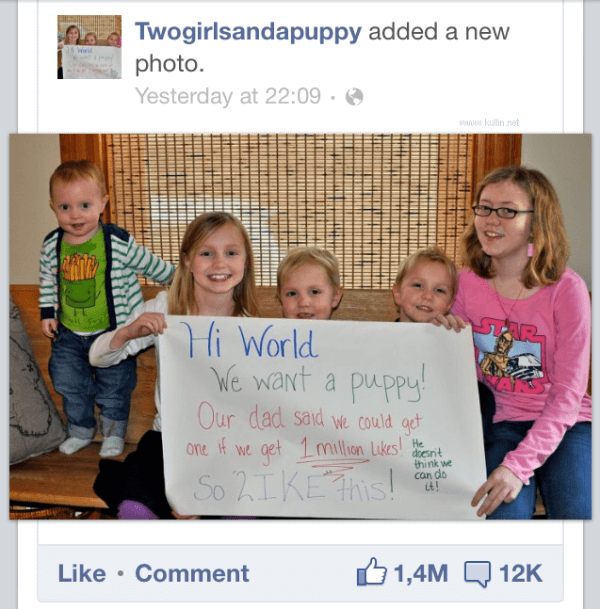 Have you seen this picture? Two sisters posted it to their Facebook page challenging their Facebook friends to like their page.
The back story was compelling. They had lost their family dog to cancer. Their parents, reluctant to get them a new dog, told them that if they got 1 million likes on Facebook, they could get a new dog.
Why does this sound like the kind of things parents say when they know there is no hope of it ever coming true?
In just 24 hours their page delivered 1.4 million likes and 12,000 comments. Social media and Facebook delivered.
As business owners, CEOs and marketing pros what can we learn from this amazing example of the power social media has to get our message out into the world? The answer is: a ton.
Here are the key take-aways from this incredible feat.
Don't underestimate the power of your own network – Most of the clients we work with don't have large social media networks when we get started with them. To most this seems like a disadvantage, but this story shows us that the state of your current network is irrelevant when it comes to growing your reach. I am sure these girls had the average amount of friends on Facebook. No more and no less than most of us. The power of their story spread though their modest network and into the larger social network resulting in a huge inflow of new likes to their page.
Don't underestimate the power of the entire network – This story is a great example of the power of a network with 1 billion connected people. The numbers are just too big to ignore. These little girls took their modest network and were able to get in front of over 1 million people in just 24 hours. If they can do it, so can you.
Create a wildly compelling and emotional story – This might be the most important take-away from this story. Their content (picture, story, mission) was very compelling. I am sure some people wanted to prove the parents wrong. I am sure some people wanted to get these little girls a dog. I am sure some people were moved by the loss of their dog and wanted to help. Regardless of the motivation, their story had all the components required to get something going virally. The other aspect of success here is that they didn't ask for much. They even removed the donations aspect of their request, choosing to focus on LIKES. This made everyone's ability to interact with them quick and easy. Make sure you don't ask your prospects to jump through too many hoops if all you want is for them to LIKE your company.
The audience is the judge – In the end, the people are the judge. The people on Facebook judged this story as worthy of sharing. No matter how clever we think we are, the rubber meets the road with the people. Either they love it or they don't. The key is to keep trying until you get it right. If you quit after your first effort you will have ensured your failure. After all, it took Thomas Edison over 10,000 attempts to create the first light bulb and he learned something positive each and every time.
New media and old media are connected – I first saw this story on Good Morning America. How did that happen? Reporters, editors and segment producers for traditional media outlets like TV, radio and print are now connected via social media. They have their radar up for interesting stories buzzing around on social media. In the old days, we pitched reporters directly. Now we have to get their attention via social media. They are responsible for creating compelling programming. Why not start with ideas that already have a following or a built-in audience. That's exactly what happened with these little girls. With over 1 million people following them, the GMA story was already guaranteed to be a successful segment. Get the social media buzz and the traditional media will likely follow.
How is this story related to business? Better yet, your business? This is a great question. First, the application works for business too. If you had a compelling, emotional and visual story with an action-oriented focus, it's very likely that you could generate similar momentum to your pages. It's been done before.
Remember, the goal for a business is to increase your reach or the number of people connected to your business. This allows you to share additional content, offers and information with all these people again in the future. Are they ALL going to want what you are offering? No! But they remain part of your extended total available audience giving you the opportunity to try again with a different offer. They remain emotionally connected to your business and OPEN to hearing from you.
The rest is up to you.
Start Today Tip – Start considering your social media reach numbers as strategic metrics you'll want to measure monthly. Start looking for ways to grow your reach. This includes Facebook friends, Twitter followers, LinkedIn connections, YouTube viewers and all social sites that work for your specific business. Spend some time brainstorming with other team members on what type of content, story, mission or plea might move the needle in your industry. The bottom line is try it and keep trying it until you hit on the right mix of key ingredients that move your target prospects to start talking.
Square 2 Marketing – Leading The Reality Marketing Revolution!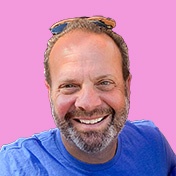 Mike Lieberman, CEO and Chief Revenue Scientist
Mike is the CEO and Chief Revenue Scientist at Square 2. He is passionate about helping people turn their ordinary businesses into businesses people talk about. For more than 25 years, Mike has been working hand-in-hand with CEOs and marketing and sales executives to help them create strategic revenue growth plans, compelling marketing strategies and remarkable sales processes that shorten the sales cycle and increase close rates.