So you like the idea of an infographic for your business. But how do you go about creating an original one that gets your prospects excited? Guess what? First you have to start with your marketing strategy. I know, we always say this—but it's true.
Who are we trying to attract with this infographic? What are their challenges? What would your infographic show them?
Here are a couple of examples –
If you're an IT Consulting Business, then your infographic might be titled The 8 Critical Steps Required to Create a Bullet Proof Back Up System. The pictures would highlight the different steps. The connections between the different steps might include illustrated arrows. There can be callouts with additional information near each step. Put website pages in each copy point with URLs for key pages on your website. This helps generate additional traffic to your site.
If you're a supplier of products to large data centers, then your infographic might be titled The Top New Technologies for Data Centers in 2013. This would include all the new technologies being implemented in today's data centers. The graphic would include an illustration of a typical data center with graphics all around the site for each of the new technology applications, along with some brief descriptions of the new tools. Each of these areas would have a dedicated URL where readers can find more information on your website.
If you own a chain of tire stores, then your infographic might be titled The Top Mistakes People Make When Purchasing Tires for Their Car or Truck. The graphic would show images for people who purchase the wrong size, the wrong type of tire or fail to have the new tires balanced. The illustrations would highlight the challenges your car would go through if you made these mistakes.
Getting the infographic produced is actually the easiest part of the process. There are a number of graphic designers, illustrators and marketing firms who are excellent at creating these. Make sure you consider people with writing skills too. After all, you don't want to have to write all this copy. You should find a firm who is able to write and design the piece at the same time. Someone like...Square 2 Marketing.
There are some online resources too if you want to try to go a less expensive route. Easelly allows you to create your own infographics using its 'Vhemes', which are infographic templates that you can customize. Piktochart provides you with a choice of six free templates (more are available if you upgrade). Color themes are easy to change and you can create charts manually or by uploading CSV files. Infogram is very easy to use with six templates.
Start Today Tip – Of course it all starts with your marketing strategy. Make sure the infographic you are considering addresses the pains and challenges of your target market. If it doesn't you aren't going to generate any traffic or any leads as a result of this effort.
Make sure the infographic has links back to dedicated landing pages on your website. Remember: your goal is to get more website traffic and convert that traffic into leads, so don't forget that when you implement your infographic program. Finally, don't look at this like a one and done project. Start thinking about your next infographic and how you can let your new "fans" know when you have something new to share. This should get people coming back for more.
Square 2 Marketing – Leading The Reality Marketing Revolution!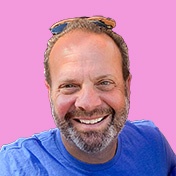 Mike Lieberman, CEO and Chief Revenue Scientist
Mike is the CEO and Chief Revenue Scientist at Square 2. He is passionate about helping people turn their ordinary businesses into businesses people talk about. For more than 25 years, Mike has been working hand-in-hand with CEOs and marketing and sales executives to help them create strategic revenue growth plans, compelling marketing strategies and remarkable sales processes that shorten the sales cycle and increase close rates.