Last week's post on infographics was one of our most highly viewed and shared posts of the year. Since we like to continue sharing content that's valued by our subscribers, today we wanted to follow that thread with another post on infographics.
Today, we are going to focus more closely on how to generate inbound marketing leads with an infographic. Here are seven ways to use your infographics to generate leads.
1. Post it to infographic community sites – I may have mentioned in earlier posts that infographic design has become its own cottage industry. There are a variety of sites that focus solely on infographics.
These sites are built to share, distribute, publish and generate website traffic via infographics. One of the most popular is www.infographicjournal.com. This site is an excellent place to publish your infographic and drive new traffic to your website. Once you convert that traffic, the result will be more leads.
2. Use it in your monthly email marketing campaign – You already have a collections of "fans" who have subscribed to your email marketing effort. While a lot of these might be customers, some are prospects and they are looking forward to hearing from you on a monthly basis.
You can use your infographic to cross sell current customers new services and you can use your infographic to move prospects forward in the sales process. Make sure you give readers a link to get back to your website if they want the infographic.
3. Offer it prominently on your home page – Create a new visual CTA (call to action) button for your home page that promotes the infographic. Create a landing page that links from the CTA. Run it for 30 days and see how many additional conversions you can generate.
4. Create a dedicated landing page for the infographic – You need a dedicated landing page for your infographic. You want to track the performance of each individual piece of educational content and your infographic is no different. Click here to see a sample of an infographic landing page.
5. Share it on social media – People are fascinated with infographics, so share them on your social media sites, especially those visual ones like Facebook and Pinterest. But if you do it right you can use an infographic to touch everyone who followed you on Twittter, liked you on Facebook, connected with you on LinkedIn and watched you on Pinterest or YouTube. This could be thousands of people and a significant number of new leads.
6. Leverage it during the sales process – Leads don't only come from the top of the funnel. If you use your infographic in the sales process, you might find your current prospects are generating new leads for you too. Email the infographic to prospects during the sales process. They typically know other people like them and if they share your graphic, the result will be more leads.
7. Blog about it – Just like we're doing here, blog readers love infographics. It's easy for subscribers to share the daily blog email with others and it gives them a reason to come back to your website. You might even be able to generate a few more blog subscribers.
Infographics add a lot to the conversation. They position your business as a thought leader and are an excellent way to start creating a buzz. When it comes to designing your infographics, make sure the topic is controversial, unique or otherwise attention-grabbing. Take a stand. Make a point and illustrate your position on that point. The more contrarian you are, the more buzz it will generate and the more leads you will create for your business.
Start Today Tip – If you have an infographic, then following the steps above will help you generate leads with this type of content However, if the real issue is that you don't know how to go about creating your own infographic, then stay tuned. Tomorrow's blog post will be about selecting a topic and creating your first infographic.
Square 2 Marketing – Leading The Reality Marketing Revolution!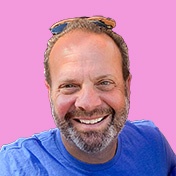 Mike Lieberman, CEO and Chief Revenue Scientist
Mike is the CEO and Chief Revenue Scientist at Square 2. He is passionate about helping people turn their ordinary businesses into businesses people talk about. For more than 25 years, Mike has been working hand-in-hand with CEOs and marketing and sales executives to help them create strategic revenue growth plans, compelling marketing strategies and remarkable sales processes that shorten the sales cycle and increase close rates.