A few weeks ago, we gave you the lowdown how to improve sales performance with the new, hot-off-the-presses book, Fire Your Sales Team Today. Great news, it's officially available TODAY on Amazon.com!
If you're still in disbelief that you really do need to fire your sales team today (and then rehire them in their new role as Sales Guides) read the following brief recap or, if you prefer, watch the video to the left where Fire Your Sales Team Today co-authors Mike Lieberman and Eric Keiles explain it all!
Like it or not, buyer behavior has changed. You aren't a fan of unsolicited cold calls, television ads and interacting with mediocre sales clerks…so why would your prospects be any different? Research shows that 88% of consumers are starting their search online and Google reports that nine out of 10 people will visit your website before reaching out to you. These days, buyers are looking to educate themselves, not talk with a sales person.
So what does that mean for your company's approach to sales and marketing? It means your approach has to change. Although buyers are looking for ways to tune out most of the advertising and sales noise around them, they still want help making the best purchase decision possible. That's why you need to implement a Guided Sales Process in your company that provides them with assistance (without a sales push!) by answering questions, educating and customizing the buying experience for each customer.
Finally, your marketing and sales departments need to support the Guided Sales Process. Say goodbye to two separate departments that function as distinct entities…and hello to the new Revenue Department. This cohesive combination of the two should work to create educational content and share it via where the new buyer spends his or her time. Where are they? Today they spend their time on websites, blogs, Facebook, LinkedIn and at other social media sites.
Finally, by making sure that these prospects identify themselves in exchange for valuable information or resources, you are better able to nurture them during their purchase cycle ensuring they know, like and trust you. The result? More leads and more new business.
We're all about being remarkable and creating the kind of company that gets people talking. We wrote this book to help challenge business owners, executives and marketing professionals to change their marketing and sales approach to better interact with the new buyer, generate awareness, increase leads and, ultimately, drive sales.
If you're ready to revolutionize your marketing and sales approach, you need to read Fire Your Sales Team Today for even more great ideas and insights into this new process. Click here to purchase your copy now! If you really like what Fire Your Sales Team Today has to say, we would love it if you gave it a rating and review on Amazon, too.
Finally, over the past few weeks, we've been counting down to Fire Your Sales Team Today's availability on Amazon as well as our special book launch party in Philadelphia TODAY. We'll be sharing updates via Facebook and Twitter throughout the day on our kickoff event and our push to get Fire Your Sales Team Today ranked #1 on Amazon, so follow us, like us and stay tuned!
Square 2 Marketing - Leading the Reality Marketing Revolution!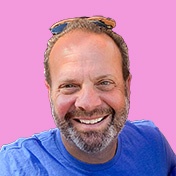 Mike Lieberman, CEO and Chief Revenue Scientist
Mike is the CEO and Chief Revenue Scientist at Square 2. He is passionate about helping people turn their ordinary businesses into businesses people talk about. For more than 25 years, Mike has been working hand-in-hand with CEOs and marketing and sales executives to help them create strategic revenue growth plans, compelling marketing strategies and remarkable sales processes that shorten the sales cycle and increase close rates.