Social Media -- It's one of the hottest digital marketing buzz words in the world today.
If you haven't figured out how to use it in your personal life yet, adapting it into lead generation efforts for your business can be particularly daunting. Back in February, we gave you 5 Reasons to Leap Into Social Media This Year. However, with all the varied platforms available -- Facebook, Twitter, Pinterest, Youtube and more -- it's hard to know which combination to use for your company.

Since social media is clearly here to stay, today we'll be discussing the new guy on the block, SlideShare, and why adding it to your current social media portfolio helps generate even more social media leads for your business. If you haven't heard yet, SlideShare was recently acquired by Linkedin for no less than $119 million so, yeah, it's kind of a big deal.
To give you some background, SlideShare is a website platform that allows you to upload presentations, documents, PDFs, and more -- all available for users to share, comment on and download. As of right now, SlideShare has over 9 million uploads and over 29 million monthly visitors, making it the Internet's largest database of presentations, PDFs, and videos. With that information alone, it's pretty clear why you and your company should take advantage of this great social media offerings to interact with customers and build awareness around your business. In addition, SlideShare provides a host of other opportunities to help your business. Here are a few of the functionality highlights:
SlideShare is an SEO Optimizer: Similar to how YouTube videos often make page one on Google searches, SlideShare's results -- such as their keyword-word optimized presentations -- often come up at the top of search engine results pages (SERPs).
SlideShare is a Lead Generator: Not only does Slideshare allow you to share content on other social media platforms, ultimately allowing you to reach more users, its premium account users can specifically track views and downloads to know exactly who downloaded files.
SlideShare is a Social Media Integrator: You can easily align Slideshare with your other social media tools by putting its share button on your company's website, as well as sharing recent uploads on other networks such as Twitter and Facebook. In addition, LinkedIn's acquisition of SlideShare allows for a unique integration of the two networks, making LinkedIn a special distribution channel for SlideShare content, not only through a company's page, but through the each and every employee with a Linkedin profile as well.
SlideShare Offers A Competitive Edge: Chances are, most of your competition hasn't even begun to consider the benefits of this new social media tool. By getting to know SlideShare now, you'll put your company ahead of the pack in the lead generation game. In addition, thanks to SlideShare's vast database, you can check out how other companies in your industry all around the world are using SlideShare's features and posting content.
If you're still not sold on SlideShare's benefits and how they contribute to your company's marketing efforts, we would suggest testing out the site and getting a feel for it as a database for your company's information. You can upload files and set them to be shared publicly or as only visible to the account user. Not only that, SlideShare is the easy solution for your company's presenters and public speakers: why worry about keeping track of your USB plug-in when SlideShare uploads are readily accessible anywhere and everywhere with the click of a mouse? Do your marketing efforts a favor and give SlideShare a try today!
Start Today – Create a SlideShare account, check out the site's features and then begin assembling company presentations, PDFs and documents to post. Don't forget to integrate it with your company's LinkedIn page for even more sharing potential! Additional website traffic and awareness of your company is a great thing and SlideShare's extensive community of millions is just what you need to get your content seen and heard.
Square 2 Marketing - Leading The Reality Marketing And Inbound Marketing Revolutions!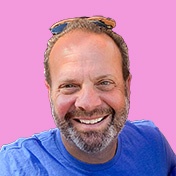 Mike Lieberman, CEO and Chief Revenue Scientist
Mike is the CEO and Chief Revenue Scientist at Square 2. He is passionate about helping people turn their ordinary businesses into businesses people talk about. For more than 25 years, Mike has been working hand-in-hand with CEOs and marketing and sales executives to help them create strategic revenue growth plans, compelling marketing strategies and remarkable sales processes that shorten the sales cycle and increase close rates.