If it sounds too good to be true, then it probably is too good to be true, right? Usually we wouldn't argue with those wise words, but there really IS a way to get page one rankings on Google without paying a single penny for pay-per-click...
And we're giving it away for free! Here you go:

First, identify the keywords you want your business to be ranked under. Try to be realistic here. If you are an IT consulting company, don't expect to be ranked for "cloud computing" or "Microsoft" without a lot of time and investment, but if you want to be ranked for "business IT consulting services, Montgomery County PA"…no problem. Selecting long phrase keywords or using geo-targeting makes your efforts more effective and less costly.
When you select your keywords, try not to pick those that YOU think people are searching for. This is a common mistake. Our clients are always surprised when we show them what people are actually searching for…it's never what they think. When you create your marketing strategy, do a little research and find terms people are actually using in their searches.
Next, select one or two key words or phrases and write a short script (one to two minutes at the most) for a video. You can shoot the video yourself with a flip cam, smart phone or video camera. Practice the script a few times and then shoot the video. Make sure the sound is good. You might want to consider investing in an inexpensive external microphone for your camera. Good sound goes a long way. Make sure your keywords are used prominently in the video script audio.
Next, shoot the video a few times and select the one that you like the best. If you don't have one already, create a YouTube Channel and put the video on YouTube. Put it on Vimeo, Phanfare and MetaCafe too. Post it to Facebook and put a link on your website to the video on YouTube.
Make sure to include your keywords in the tags and make sure the description has your keywords in it as well. You can add your phone number to the description too. This has resulted in a number of our clients getting direct phone calls as a result of their videos, so give that a try.
Finally, since we have to be able to track your effort, you are going to need to create a dedicated landing page on your website. This page is the place you will direct all the traffic that your video generates. Don't send them to the home page. Make sure your link is prominent on the video. Say it AND show it. You can also put the link in your description too, in case you aren't able to get it into the actual video.
This is important. Pay-per-click and traditional search engine optimization might get you on the first page of Google, but that's not going to pay the bills. It's not enough to just have a page one ranking or a video...you want leads! So make sure you close out your video with some additional educational content that viewers can access on your website (landing page) in exchange for their email address. This might be a free report, white paper, tip guide, comparison chart, Infographic or webinar. But you need this to convert visitors into leads, so don't skip this step.
Start Today – You have everything you need to get on the first page of Google. Some of our clients have been able to do this in as little as 24 to 48 hours. This depends on the competitiveness of the keywords and the volume of searches. But if you follow these steps, you will improve your rankings, click throughs and leads. Go ahead and get started!
Square 2 Marketing – Leading the Reality Marketing Revolution!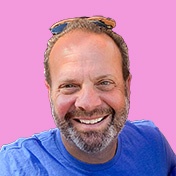 Mike Lieberman, CEO and Chief Revenue Scientist
Mike is the CEO and Chief Revenue Scientist at Square 2. He is passionate about helping people turn their ordinary businesses into businesses people talk about. For more than 25 years, Mike has been working hand-in-hand with CEOs and marketing and sales executives to help them create strategic revenue growth plans, compelling marketing strategies and remarkable sales processes that shorten the sales cycle and increase close rates.