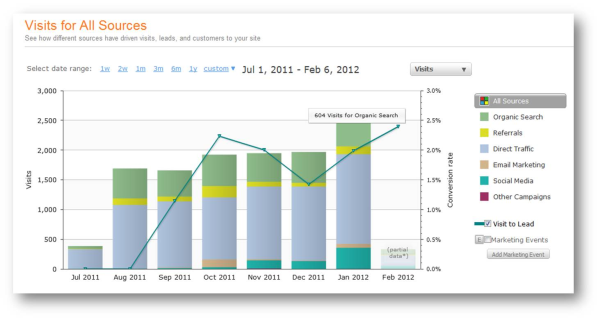 How do you know if your website is working right? Here are the magic numbers every business owner, entrepreneur and marketing professional should know about their websites.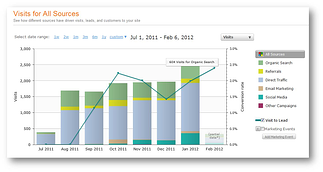 Total Visitors – It's the most obvious, but also the key metric that often gets confused and cluttered. Do you want unique visitors? What about return visitors? In our opinion, it doesn't matter. If, month over month, your site is getting more total visitors then your marketing is working well.
Conversion Rate – How many of those visitors are converting into leads? This is your conversion rate. Average conversion rates are around 1%, but strong sites with a lot of offers push conversion rates up to double digits. Track this monthly and make sure it's improving month over month, but don't expect dramatic increases. Small improvements here have a big impact.
Source Performance (Organic, Social Media, Referring) – Knowing where your traffic is coming from is critical. The numbers of visitors from organic sources are those people who are typing in search terms, finding your site and then clicking through. The more organic traffic you get, the more search-friendly your site is and the more your site is "getting found."
Strong numbers for social media indicate the effectiveness of your Twitter, LinkedIn, YouTube and Facebook tactics. This means people are finding you on these sites and clicking back to your main website.
Referring sites have to do with external web pages that link back to your site. If you do a guest blog post and that link is driving traffic back to your site, then your referring site performance should be increasing. It's important you look at these sources monthly.
Inbound Links – The number of inbound links is typically a direct driver of total traffic. More links equals more traffic. The quality of those links is also relevant. The more respectable the site hosting your links, the higher value Google places on those back links and the higher your site will rank on Google.
Leads – If your site isn't generating leads, it's not working right and needs an overhaul. You should be looking at leads from your website weekly at the very least. You should also be collecting emails from each lead generated through your website. This is how you integrate web leads into your sales process.
If you start changing your site, don't expect a new website to go from zero to 60 in three days, but your site should improve steadily over time, generating a few leads a month to start and ultimately getting to a few leads a week, at the very least.
There are a couple of other metrics that you could look at like blog subscribers, social sharing, landing pages and page views, but if you focus on the five suggestions above you will be among the top 10% from our experience.
Start Today – Make sure you have access to this data on a daily, weekly and monthly basis. Most of this information can be automatically emailed to you at regular intervals making review simple and quick. If the numbers aren't moving in the right direction, don't wait. Make changes immediately and track progress. This builds in a process of continuous improvement that directly benefits your top line revenue.
Square 2 Marketing – Leading the Reality Marketing Revolution!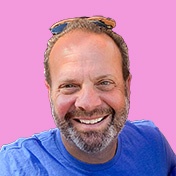 Mike Lieberman, CEO and Chief Revenue Scientist
Mike is the CEO and Chief Revenue Scientist at Square 2. He is passionate about helping people turn their ordinary businesses into businesses people talk about. For more than 25 years, Mike has been working hand-in-hand with CEOs and marketing and sales executives to help them create strategic revenue growth plans, compelling marketing strategies and remarkable sales processes that shorten the sales cycle and increase close rates.