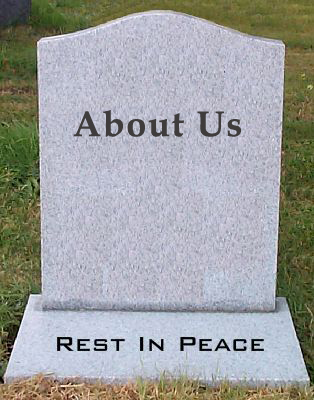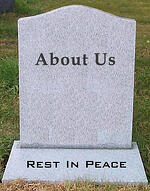 As followers of this blog surely know, we here at Square 2 Marketing are firm believers in the idea that true progress is only made by breaking with tradition. Just because a certain "tried-and-true" marketing tactic or practice worked well for years (or even decades) doesn't mean it's still the best answer today. In fact, the longer it's been around, the more likely it needs to be retired!
With that in mind, while brainstorming new ways to improve the inbound marketing efforts of our clients, we recently came to a sudden and grave conclusion: About Us is dead!
For countless years now, businesses worldwide have felt the need to include in-depth descriptions of vague virtues and amorphous mission statements on everything from brochures and whitepapers to posters and print ads. Why?! Your customers could care less about how many employees you have or how many years you've been in business. What they really want to know is: what can you do for them...how can you solve their problems and ease their pains?
In keeping with our Reality Marketing tradition of bold and contrarian solutions that make our clients more remarkable, we realized that a section dedicated solely to self-description has no place on emails, advertisements, PDFs, No-Risk Offers and other client marketing tactics. In fact, all this time it's been taking up valuable space that could have been put to better use providing the sort of highly targeted offers and benefits that today's consumer craves.
You may be thinking: "But what about my brand identity?" The answer is simple: if your brand is strong, it will survive (without self-description) through the strategic use of your company logo, voice & tone, graphics, taglines and all other means of creative identity representation.
So that's it. "About Us" is dead. May it rest in peace (somewhere between pop-up ads and telemarketing) and may its passage into the history books make room for even more remarkable and relevant content of interest to your target audience!
ACTION ITEM: In memory of this longstanding advertising industry tradition, a period of mourning is acceptable. Before you remove the About Us section from all your marketing tactics and collateral (emails, PDFs, posters, print ads, etc.) take some time to think about how you can put this extra space to better use. What kind of tangible beneifts or offers can you provide for your customers or prospects? Try to think of something that improves their personal or professional lives in an impactful and meaningful way. Consider renaming (or at least rewriting) the About Us section of your website to be more about the remarkable benefits your products or services offer to potential customers.
Not sure what makes your company remarkable? Don't panic...that's our specialty. Click on the button below to schedule a call with one of Square 2 Marketing's experts. We promise to find something remarkable about your business on the very first call. Go ahead and challenge us!
Square 2 Marketing - Leading The Reality Marketing And Inbound Marketing Revolutions!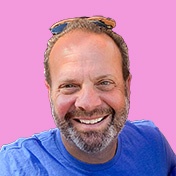 Mike Lieberman, CEO and Chief Revenue Scientist
Mike is the CEO and Chief Revenue Scientist at Square 2. He is passionate about helping people turn their ordinary businesses into businesses people talk about. For more than 25 years, Mike has been working hand-in-hand with CEOs and marketing and sales executives to help them create strategic revenue growth plans, compelling marketing strategies and remarkable sales processes that shorten the sales cycle and increase close rates.