What Our Clients Say
David Clavens, VP of Marketing, Scoop

(Software/Technology – Carpooling App)

I worked with them for a few months and then wanted to redo our website. A site that should have taken six to seven months was done in six weeks. The thinking and strategy that went into the site made the entire effort remarkable."

Gerry Miller, CEO, Cloudticity

(Technology – Amazon Web Services for Healthcare Providers)

We've worked with Square 2 for years now. They are a great partner and they provide all the strategy and execution we need to hit our lead gen and new customer goals month over month."

Gary Pica Jr., Director of Marketing, TruMethods

(Software/Tech – Software for Managed Services Providers)

Square 2 has been a fantastic agency to work with. The team is responsive, and the work has been top-notch. They have listened to our needs and built out a solution that fits our budget and our goals, and they continue to deliver the highest quality work."

Emily Morgan, CEO, Delegate Solutions

(Business Services – Temporary Workforce)

Working with Square 2 has been amazing. They help us think through our sales and marketing strategy, and then they help us execute a buyer journey for our prospects that has far exceeded our expectations. They even helped me write a book."

Daniel Regard, CEO, iDiscovery Solutions

(Software/Tech – Legal Industry)

Website visitors were up 24% in just 30 days, our new website drove an increase in leads five times more than before working with them and we started nurturing our in-store customers to purchase add-on products or services, something we've never done before."

David Little, CEO, RE Little

(John Deere Distributor)

Square 2 has been a pleasure to work with for multiple reasons. They work hard at making our ideas and vision come to life. They bring their own ideas to the table with a great amount of enthusiasm and iterate on a dime. This is a great team."

Mac McConnell, VP of Marketing, Gliffy

(Tech/Software for Project Managers)

Our firm has worked with Square 2 for over five years. They have provided great insight, tools and tactics for us to use. They helped us execute various stages of our marketing plan and helped us rethink sales and marketing at the firm. They are a great firm, and their strong leadership has built a team that is responsive to their clients."

Jane Scaccetti, CEO, Drucker & Scaccetti

(Professional Services Firm)

The Square 2 team did an excellent job working with our sales and marketing teams and gave our team lots of good 'secret in the sauce' advice to help us work together in HubSpot more efficiently and effectively."

Matt Scott, Marketing Director, Data Facts

(Business Services – Credit Services)

Square 2 is great to work with, and more importantly, produced results. Now that we have internalized the revenue generation system, we have a consistent flow of leads that have high conversion into sales opportunities. We have more sales and a lower cost per sale; mission accomplished."

Barrett Ersek, CEO, Holganix

(AgriTech Product)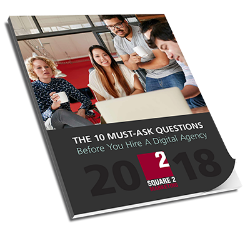 The 10 Must-Ask Questions Before You Hire A Digital Agency
Why work with Square 2

Cyclonic Buyer Journey
The sales funnel is dead. People don't buy like they did 10 years ago. Today, the buyer journey is filled with chaos and distractions. Learn how to cut through the clutter and design a buyer journey that spans click to close. Drive more leads, better leads and leads that close faster by using the Cyclonic Buyer Journey™ methodology.
MAXG
So many reports, so much data. We use MAXG for our clients to help our consultants uncover the most important insights and recommendations, so your team knows what to work on and in what order. The outcomes? More visitors, more leads, more sales opportunities and more customers.

Accelerated Engagements
Square 2 is the only agency to deliver a dedicated team that works with only you. This means six months of work in just 30 days. Our Accelerated Engagement gives you a dedicated team of marketers, sales experts, writers, editors, designers and developers that works with only your company. We configure your team to meet your needs.