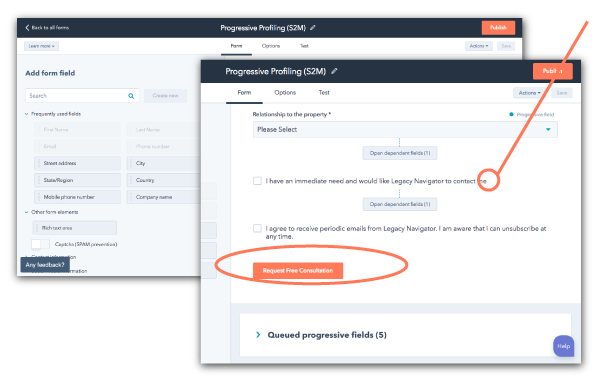 Among our biggest wins was including an "immediate lead" checkbox to progressive profiling forms. Using this checkbox accelerates MQLs and enables sales to quickly contact prospects ready to speak with someone at Legacy Navigator. This has added about one extra MQL a day to the pipeline.
Looking at the big picture, our sales enablement work has helped Legacy Navigator follow a process that moves leads from marketing-qualified to closed sale. Leads no longer get lost in the funnel, because we built in opportunities to segment leads along the way.
With a stronger lead-management process in place, and better alignment between sales and marketing, the team at Legacy Navigator is in a great position to generate more revenue and continue growing the business.

Square 2 has helped our fast-moving startup find and install lead management and nurture strategies that work for our team. Everyone on our Square 2 Marketing team is so pleasant to work with and they make even highly technical stuff easy to understand.