You Have To Commit
There's a difference between sprinting and rushing. To get six months of work in just 30 days, Accelerated Engagements rely on six pillars to ensure maximum efficiency and productivity.
1. Daily Huddles
Delivering maximum work in minimal time hinges on communication. You need a dedicated point of contact in your organization who can meet daily to supply information, provide feedback and approve completed work.
2. Defined Goals
You need to be clear on your business objectives and the outcomes you want from the engagement. You need to value marketing and sales execution and the investment associated with improving revenue generation.
3. Dedicated Team
You get a dedicated team tailored to your needs. With you as its only client, your team can become intimate with your brand and focus intensely on your goals, creating a highly efficient and productive engagement.
4. Agile Delivery
Speed and agility aren't mutually exclusive. We leverage an Agile approach that allows us to be nimble and responsive to changing needs. Through ongoing collaboration, we continually refine strategies and adjust tactics.
5. Efficiency
Just like a car, teams perform best on an open road. A lot of time is lost when they constantly shift between clients. Focused solely on you, your dedicated team can build sustained momentum and productivity, maximizing your time and spend.
6. Velocity
In business, success often hinges on time to market. You need a website now, not months from now. Our Accelerated Engagements provide velocity, producing impactful work immediately and delivering results in weeks rather than months.
They Took The Plunge
A Ride To Remember
Learn how we created a library of content in a month to help Scoop support its 10-city ABM campaign.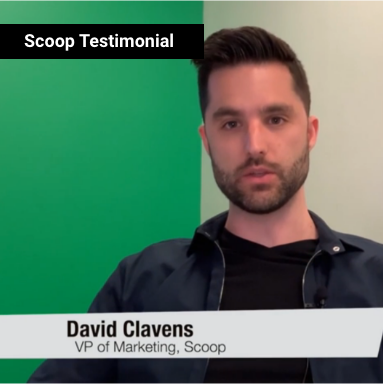 Background
Scoop is a Series B startup with a managed carpool program that enables employers to implement an impactful commute solutions.
Situation
As a startup, Scoop needed to hit the ground quickly on a multi-city campaign program launch. They needed us to help supplement their internal team with assets for 10 different cities.
Each 20-page city guide needed to be written, edited and designed. In addition, associated landing pages, CTA buttons and lead nurture emails had to be created from scratch to support their sales team's account-based marketing (ABM) programs. Their revenue goals depended on successful city launches.
Solution
Our team of consultants, writers, designers and executive sponsors traveled to the Scoop offices to spend an immersive two days kicking off the program, and then drove delivery of all the agreed-on assets in just under 30 days.
We huddled with Scoop's marketing leaders every day for three weeks, setting priorities and reviewing copy, designs and website assets. The engagement set Scoop up to launch their ABM campaign ahead of schedule.
Results
Work that would have taken six months or more was created and delivered in just three weeks. The educational content and sales assets associated with Scoop's multi-city ABM campaign were in the hands of the sales team and online in time for the ABM campaign to launch early.
Scoop's sales team received a head start on their sales goals. The assets contributed to Scoop moving into major markets and driving revenue beyond the initial projections.
David Clavens, CMO, Scoop
(Software/Technology – Carpooling App)

Background
Cloudticity provides consulting services focused on developing HIPAA-compliant applications on Amazon Web Services (AWS).
Situation
The Cloudticity website was a few years old and starting to show its age. It had a ton of information, but the visitor experience and the educational content for lead generation were missing.
The entire site needed a relaunch, and typical website development processes were going to take months. The Cloudticity team needed the site done in weeks, and they wanted it to be interactive, filled with educational content and designed with the visitor experience in mind.
Solution
Our team of consultants, writers, UI/UX designers, website developers and executive sponsors worked closely with the Cloudticity team to kick off the site build, including SEO strategy, conversion strategy, buyer journey mapping, messaging and user experience.
Using the Agile and Scrum methodologies, we huddled daily to review designs, copy and page layouts. As part of the team, the client had visibility into all aspects of the design and development, leading to a highly efficient website build process.
Results
What would have taken seven to 10 months took just five weeks. The site, which would have cost well over $100,000 with a traditional agency, came in at $70,000 due to the efficiencies and focus of the team.
This was not a minimal viable product site. It included new messaging, new conversion points, video, interactive elements and a new design. It was fully SEO and conversion optimized to drive leads.
The site included experiences for several personas, educational content designed specifically for those personas, a full knowledge center and an application of the buyer journey that focused on conversion opportunities for people at the early, middle and late stages of their buyer journey. In the site's first week, leads generated were four times what the old site produced.
I worked with them for a few months and then wanted to redo our website. A site that should have taken six to seven months was done in six weeks. The thinking and strategy that went into the site made the entire effort remarkable."
Gerry Miller, CEO, Cloudticity
(Technology – Amazon Web Services for Healthcare Providers)