Change Your Inbound Marketing Approach With Our Podcast
Between 50% and 75% of companies are missing their sales goals.
Why?
Mike Lieberman, CEO and chief revenue scientist at Square 2, has the answer.
The buyer journey has changed. With so much information now available to consumers, it's no longer a linear, three-step process with a clearly defined beginning, middle and end. And if companies don't align their sales, marketing and customer service execution with the current ways people buy, their revenue will suffer.
Join Mike and his expert guest hosts as they explore the new Cyclonic Buyer Journey™ in a series of podcasts. As avid binge watchers, we aren't going to make you wait a week in between each episode – that's for network TV. Instead, enjoy all of seasons one and two at your pace.
Change your thinking, change your approach and, most importantly, change your results.
Start here.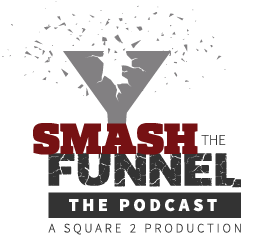 Smash The Funnel - The Podcast