Make An Impression
That Has Impact
There may be no more important sales and marketing tool than your website. Tailored to your business, our award-winning websites are designed to drive traffic, set you apart from the competition and generate leads.
Our data-driven approach results in sales-ready websites that are conversion-focused and UX-optimized to start generating results at launch. With experience on all major CMS platforms, we help choose the best platform for your needs and integrate with your marketing automation system.
Appearance Isn't Everything
An effective website depends on a number of strategies and tactics, that when properly employed, can increase revenue and improve results.
They Love Us, And So Will You
"I worked with them for a few months and then wanted to redo our website. A site that should have taken six to seven months was done in six weeks. The thinking and strategy that went into the site made the entire effort remarkable."
They Love Us, And So Will You
"Website visitors were up 24% in just 30 days, our new website drove an increase in leads five times more than before working with them and we started nurturing our in-store customers to purchase add-on products or services, something we've never done before."
They Love Us, And So Will You
"This has been the fastest, most on schedule and most calm website process I have been a part of in the four I have done. Well done to your team! I look forward to phases 2 and 3. (There must be pigs flying somewhere in the fact that I am looking forward to more website development.)"
Like To Learn?
You're Gonna Love Us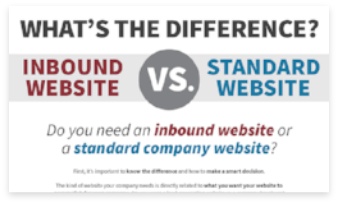 Infographic
Do You Need An Inbound Website Or A Standard Company Website?
Get My Infographic