Shhh...The 7 Selection Secrets Other Digitial Marketing Agencies Don't Want You To Know
Research and Preparation
Start With A Search:
Start your search online. If your digital marketing agency can't get its business found, how is it going to get your business found? Try a variety of keywords, not all agencies are found for all keywords. Then check out some directories like Clutch. Top agencies, like us, have the track record and testimonials to rank highly here.
Make Sure The Digital Marketing Agency Practices What It Preaches:


Visit the agency's website and download its content to get a sample of what its work is like. How well-written and designed are its offers? If the agency can't create excellent content for its business, how will it be able to do so for you?
Vetting
A Digtial Marketing Agency
Dig Deep:
Now that you're ready to talk to a digital marketing agency, make sure you dig deep into its capabilities. Ask questions. How many clients does it currently work with? How many inbound marketing programs or demand generation programs has its team run over the last five years? What are the typical results of those programs?
Meet Your Entire Team:
Make sure you meet ALL the people you'll be working with. Ask to meet your content team, your interactive designers, your development resources and your marketing strategy people. Then, talk with them about the depth of their expertise.
Ask About Results:
Results matter, so explore this with the entire team. Ask what kind of results you should expect and how confident the team is in delivering those results. Find out how often the agency hits projections with current clients, and consider asking if it's willing to put all or some of its fees at risk to prove it.
Making Your
Final Selection
Get Program Recommendations:


Ask about program recommendations. Is the digital marketing agency suggesting packages? Your business is unique, so you should expect personalized program recommendations. Make sure the recommendations cover all of your requirements, not just some.

Skip The References:
Do yourself a favor and don't bother checking references. Every agency has a couple of referenceable accounts. There's rarely any value or differentiation uncovered there. Instead, ask for some video content from clients who've gone on record and produced positive commentary for the digital marketing agency to use.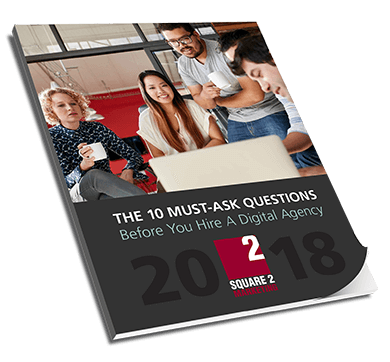 The 10 Must-Ask Questions Before You Hire A Digital Agency
Key Characteristics Of A
Results-Oriented Digital Marketing Agency
Projects And Achieves Real Business
Results

For Its Clients
Hires Its
Team

Instead Of Using Contractors
Acts Like A
Partner

, Not A Vendor
Has 15+ Years Of Inbound Marketing and Digital Marketing
Experience
Square 2 Marketing
By The Numbers
950,000
And Counting Leads Generated For Clients
15
Years Of Marketing Experience
210
Combined Years Of
Marketing and Sales
Experience