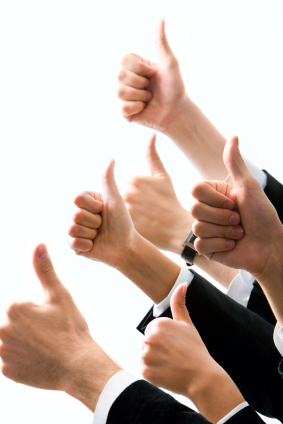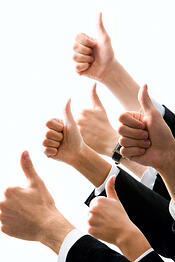 "Get me some references, and we can get the deal done."
How many times have you heard that line over the past few years? It's usually the last road block thrown up by prospects to make you jump through one more hoop and give them a little more time to make up their mind. Why do they need to talk to people who are obviously going to give you good reviews?
Remember, your prospects never say yes to your proposal until they feel safe. Talking with your references is one of the most traditional ways prospects work to feel safe before hiring you or buying your stuff.
The good news is that there's a better way: video marketing.
Consider integrating references into your sales process and providing them to prospects proactively so you never have to bother your best customers again. How? The reference reel.
By taking a proactive approach with video marketing as the platform, you're able to create a series of references that are ready to go at the click of a button.
First, line up a cross-section of clients, ones you know are going to give you glowing reviews. Ask them up front if they would like to participate in your video program, and make it worth their while. If they are local, invite them to your office, feed them and make it more of a party than a chore. We've even done it after an educational event. As they were coming out, we had them sit down and spend an extra 10 minutes talking about their experience with us.
Make sure you give them a head's up and ask them if participating is okay. You might want to have some key messages prepared in advance to help guide their comments. Remember, you use all of your videos for search engine optimization, so including keywords in their comments is important. That is going to take some preparation, thinking and coaching on your part.
One way to accomplish this is to ask your clients questions and tape their answers. By giving them the questions, you're able to glean the answers you want on video, ensuring that you have the information your prospects seek as part of their reference-check process.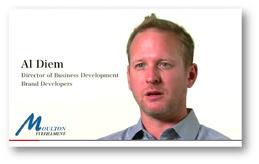 Let your clients ramble. Ask them the same question three or four times. By working the interview this way, you generate a lot of raw video to be edited down into short, two- or three-minute vignettes.
Make sure that your videos answer as many of the questions your prospects are asking during their reference calls as possible.
If you want to see a sample client reference reel, click this link.
Next, take a look at your sales process. At what point do most of these requests enter in? Insert a proactive email or prospect conversation as an extra step in your process. Right before prospects typically ask for references, let them know you are sending them an email with a fun video that they are going to find very helpful in making a decision on how to move forward.
In the email, be transparent. Tell them that that this is how you handle references because you know that while everyone wants them, few want to give them. This makes it easy. All of their questions are asked and answered. No phone tag. No uncomfortable conversations with people they don't know. No limit to the information gathered because they didn't want to call any more references.
Now they get all of the feedback and insight they want with just the click of a link or two. This is simple, professional and very 2014.
You're likely to get a skeptic or two who think that the videos were staged or that the clients were coached. That might be true, but is the selection, coaching and feedback any different when you give them names and ask them to call? These are all happy clients. Why not make it easy on everyone?
If you still get one or two people who insist on talking to references personally, oblige them. But, overall, clients who have created and implemented this process only have to provide traditional references 10% of the time, as opposed to 100%. Even better, they have seen their sales cycles reduced by at least two weeks in almost every situation.
Start Today Tip – This is something you're able to do on your own. You don't need a professional video crew or production service to create these videos. It just takes some proactive planning to identify the clients, invite them in, plan the questions and then edit the video. Once you have the reel, you're able to use it in the sales process. You should also plan to post the video to your website, YouTube channel, social sites and other video-sharing sites. Doing so helps drive website traffic and leads, leading to increased sales and better overall business performance.
Square 2 Marketing – Leading The Reality Marketing And Inbound Marketing Revolution!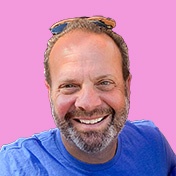 Mike Lieberman, CEO and Chief Revenue Scientist
Mike is the CEO and Chief Revenue Scientist at Square 2. He is passionate about helping people turn their ordinary businesses into businesses people talk about. For more than 25 years, Mike has been working hand-in-hand with CEOs and marketing and sales executives to help them create strategic revenue growth plans, compelling marketing strategies and remarkable sales processes that shorten the sales cycle and increase close rates.