Integrate SEO, Keywords And Contextual Search If You're Looking For Lead Generation
Looking For Leads From Inbound Marketing? Get Found On Search Engines
If you've been paying attention to the world around you, then you've realized it's much more difficult to grab people's attention today than it was 10 years ago. You might have also noticed that consumers have taken back much of the control when it comes to their buyer journey.
Back in the day, salespeople controlled 75% of the buyer journey, doling out information as they saw fit and supporting their prospects in the way that worked best for them and their companies. Today, prospects are in control of the sales process, relying on marketing for the first 75% of the buyer journey and only engaging with salespeople for the final 25% of the journey.
All this means is that as business leaders, CEOs, VPs of marketing or VPs of sales, you need to focus your precious marketing budgets on those people who are actively looking for you, as opposed to trying to find people who might be looking or trying to interrupt people who aren't looking yet.
To do that, you have to get found on the search engines and in other places where your best prospects might be looking for you.
---
Getting Found On Search Engines Starts With Strategically Selecting Keywords
It's easy to get off on the wrong foot when it comes to selecting keywords. The mistake most people make is selecting keywords they want to be found for instead of looking at the keywords and keyword phrases people are actually using. This disconnect is common.
To prevent this misstep, start with an audit of how you're currently ranking for keywords. This will identify highly searched keywords that you're already ranking well for. You'll want to make sure you maintain these rankings, but it will also identify new highly searched and relevant keywords, keyword phrases and questions (yes, questions — more on this later) that can bring many more new visitors to your website.
You're also going to want to know which keywords have high difficulty (will take longer to rank for because more companies are competing for these keywords) and which keywords are easier to rank for. Once the big list of potential keywords, phrases and questions is complete, you'll want to create a collection of prioritized keywords.
For example, we identify between 900 and 1,000 targeted keywords for our clients. While we track all these keywords, it's impossible to work on this many keywords simultaneously. To focus your efforts, select a portfolio of eight to 10 prioritized keywords that you want to move the needle on immediately. Some of these keywords should have low difficulty for ranking, while others that are strategic to your marketing efforts may have high difficulty.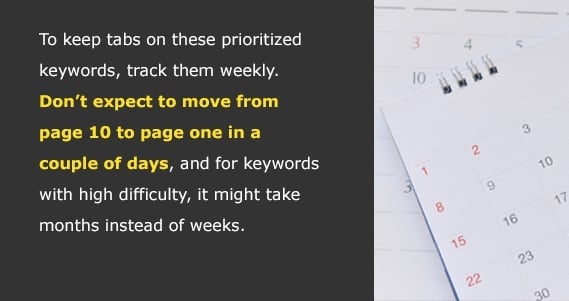 Now that you've selected this strategic direction for your get found strategy, you're ready to work on a few of the connected tactics, like your website and your content marketing strategy.
You're going to want to make sure those keywords and keyword phrases are used in your website architecture and URL naming conventions, in your blog articles, in the copy on your website pages and in educational content you create, like whitepapers and e-books. This connection between search, web and content is one of the secrets to driving results for clients.
---
Don't Underestimate The Importance Of Your Website
As mentioned above, your website is going to have a huge impact on how well you rank on search engines. While Google doesn't rank websites, it does rank website pages. No one knows exactly what the Google ranking algorithm includes, but some strong signals indicate that the search engines are looking at your website pages for several indicators.
Here are some of the more important website page components that you'll want to make sure fit perfectly with your search engine optimization work.
Page URL
What you name your pages has a big impact on how the search engines view your pages. If you call your most important page ".com/services," the search engines might view this page as a sales page and not rank it highly. If you change the name of that page to ".com/what-is-inbound-marketing," the search engines will view the page as an educational page. The resulting change in ranking for a strategic keyword like "inbound marketing" was 10 pages in our case.
Headline
Headlines on your pages absolutely need to include your keywords or phrases. The search engines are looking at headlines as a leading indicator of what the content on the site might include. Keep in mind that your headline has to work for Google and for your visitors. Don't create headlines with keywords that don't make sense or don't tell a compelling story to your actual human visitors.
Sub-headline
A lot of website pages have both headlines and sub-headlines. The search engines are also looking at this text for keywords. This is a great opportunity to get secondary keywords or complementary keywords on the page.
Website Copy
This is one of the more common places people look to use keywords. As mentioned above, make sure you're using keywords naturally and not stuffing keywords. The search engines are looking for pages with excessive keywords and then negating their rankings. This is a great place to use a variety of keywords instead of one keyword multiple times.
Image Tags
You're going to have images on your pages. Make sure they have the right tags. These are called image tags or alt tags. These tags should include your keywords too. Google does a lot of image ranking and people are searching for images, which means your images might outrank your pages, and images can drive visitors back to your website pages if they rank properly.
Meta Description
This used to be part of the Google search algorithm and recently it appears to be less important (if at all important). However, we include it here because the meta description for your pages is critical to getting people to click on the rank listing. This is important. The ranking is not the end game; it's the click, the visit and then the conversion you should be looking for. The meta description helps to encourage searchers who find your ranked listing to click on the link.
Conversion Rate
Just like the meta description, the conversion rate on your site is also important when looking at the big picture. If you can't convert visitors on your site, Google is going to view this as a less valuable listing to searchers and drop your ranking. The inbound marketing endgame is not listings or rankings, it's leads. So, make sure your website pages all have high-value, educational offers that get visitors to convert. This is going to help you rank more highly for difficult search terms.
Blog
Google is looking for fresh content. It's challenging to add new website pages to your site on a weekly basis, but it's easy to add new blog articles to your blog on a weekly basis. This signals to Google and the other search engines that you are publishing fresh and helpful content. Make sure your blog is set up properly as a subdomain of your main website URL, such as "www.square2marketing.com/blog."
Blog Articles
Treat all your blog articles like individual website pages. The headline, sub-headline, website copy, page URL, meta description, image tag and the offers on the page all need to follow the guidelines identified here.
---
Embrace The Future Of Search And Make Sure You Answer Questions
Almost everyone is aware of the new category of devices impacting our lives. Amazon's Echo Dot, Google's Home and a host of competitive products are all gaining a lot of momentum. If you've taken the time to notice how they work, it's not about pages and pages of search results, but rather just one simple result.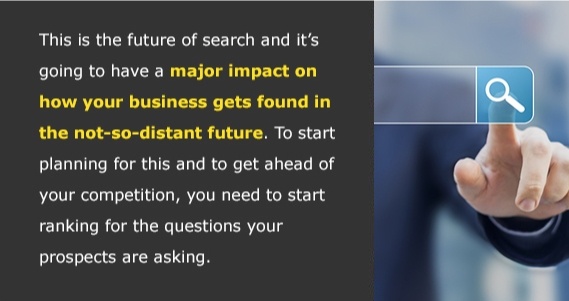 The good news is it's not hard to identify the questions and then integrate those questions into your overall marketing strategy, starting with search. For example, we have a page that is ranked for the keyword "inbound marketing," and the page is titled "What Is Inbound Marketing?" This approach to search has us ranking at the bottom of page one and top of page two for a keyword that has a 98 difficulty rating.
Once you have the questions identified, you can add pages, blog articles, headlines and page copy to answer these questions. There is more good news. When you use questions as a basis for your website page and blog article copy, you can promote additional long-form content as educational offers on these pages. This technique is going to improve your conversion rate, drive more leads and help you rank higher for your keywords.
---
Driving Visitors To Your Website Means Focusing On A Variety Of Sources
Let's take a step back and look at the big picture here. People can get focused on the trees and miss the forest right in front of their eyes. Your goal should be to drive more visitors to your website month over month. Ranking on the search engines is just one of many ways to do that.
You'll want to focus just as much of your energy, budget and time to driving new visitors with social media sites, referring websites, email marketing and potentially pay-per-click campaigns.
Getting people to visit your website from other websites comes with some big advantages. This is typically referred to as backlinks or inbound links. People who are linking to pages on other websites build in links to your website because they found your pages valuable. Google and other search engines put a high value on these backlinks. The more high-quality inbound links you have, the higher you'll rank overall.
Finally, I think it's important to give you good guidance on overall search engine optimization strategy. That includes focusing more on the overall results, the number of visitors from organic search and the improvement in that number month over month.
While your individual rankings for specific keywords, keyword phrases or questions are important, it's more important that you see overall numbers moving up and to the right month over month.
These simple steps will ensure you're driving the right visitors to your website. This is an important first step and one that could make or break your opportunity to turn these visitors into leads and then into new customers. Get started today!
---