5 Proven Techniques For Better Sales And Marketing Alignment
Discover How To Bridge The Gap And Drive Revenue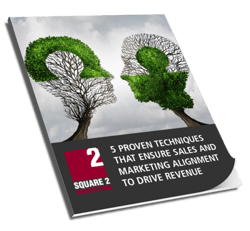 Marketing and sales alignment is imperative for revenue growth in B2B organizations, but research shows that 84% of sales and marketing executives don't feel their teams are fully aligned. True alignment starts with prioritizing constructive communication across department lines and having a rock-solid strategy.
When you read 5 Proven Techniques The Ensure Sales And Marketing To Drive Revenue, you'll learn how to:
Ensure a seamless handoff from sales to marketing
Develop an effective, efficient lead management process
Create valuable sales enablement content
Definitively define leads as MQL, SAL and SQL for better productivity
Download this informative guide to discover how to align your marketing and sales teams to boost revenue at your organization.