How To Drive Big Results
With Demand Gen And Inbound Marketing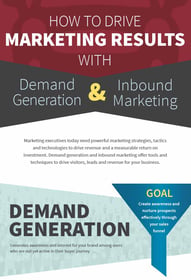 Marketing executives today need powerful marketing strategies, tactics and technologies to drive revenue and a measurable return on investment. Demand generation and inbound marketing offer tools and techniques to drive visitors, leads and revenue for your business.
Download our infographic, How To Drive Marketing Results With Demand Gen And Inbound Marketing, to learn:
Key advantages of demand generation and inbound marketing strategies
How to combine demand gen and inbound marketing for your best results
Critical elements of demand generation and inbound marketing programs
Complete the form on this page to download the infographic now.