The Complete Approach To Lead Generation
8 Critical Components For Overall Success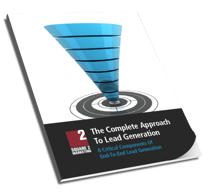 Successful lead generation is a chain of linked processes, each contributing to overall success. Your lead generation efforts won't reach peak performance until you complete the chain and ensure that all components are working together.
This whitepaper breaks down the multi-faceted process of lead generation and explains the key aspects of a successful lead generation campaign. Download The Complete Approach To Lead Generation and learn how to:
Establish lead generation targets that enable you to better allocate your budget across marketing programs
Enhance the partnership between sales and marketing
Provide important training and background materials that sales reps need
Download your copy of the whitepaper today and start building a true end-to-end process.