In-House Or Outsourced Digital Marketing Team?
Why The Answer Might Not Be So Obvious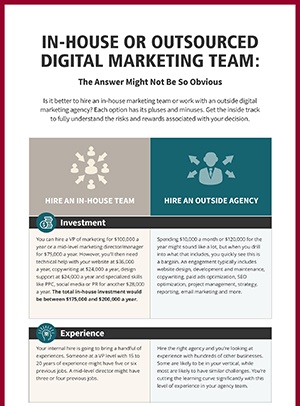 Is it better to hire an in-house marketing team or work with an outside digital marketing agency? Each option has its risks and rewards, and today, the decision is more complicated than ever.
For instance, spending $120,000 a year for an outside agency may seem expensive, but how much would it cost to acquire those skills and experiences in-house? You need a wide array of tactics – from website design and development to search engine optimization and copywriting – to run a successful marketing program.
Before you decide one way or another, learn about the pluses and minuses of each option. Download our free tip guide and discover the differences in:
The kind of financial investment required
Access to resources, responsiveness and delivery speed
Practical experience with sales and marketing technologies
Complete the form on this page to download the tip guide now.
Build Your Ideal Marketing Team