24 Of The Hottest, Most Innovative Website Optimization Techniques
Turn Your Website Into A Lead And Revenue Generation Machine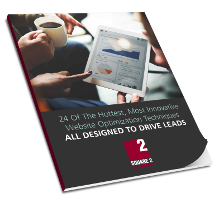 When your website consistently fails to perform, you lose out on visitors, leads and revenue generation opportunities.
We've evaluated more than 1,000 websites over the years and identified some common challenges our customers often face. In response, we wrote a comprehensive e-book outlining 24 of the most effective website optimization techniques.
To name just a few of the techniques included, you'll learn how to:
See your website the way a prospect does
Gain more control over what visitors do, feel and see on your website
Provide offers for all stages of the buyer's journey
Improve CTA and landing page experience
Get data on user behavior and leverage it to make adjustments
Focus on the best marketing optimization opportunities
Use content download data to drive content strategy
Enter your information in the form fields to download your e-book. Learn how you can use these website optimization techniques to turbocharge your leads and revenue generation.
Download The Website Optimization E-Book