Marketing Automation Checklist
Is Your Company Ready For Marketing Automation?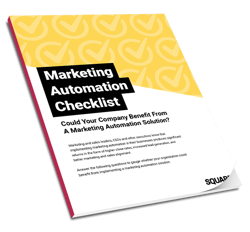 Is your company struggling with low conversion rates? Are you having difficulties with tracking leads or justifying a marketing budget?
Marketing automation might be the solution for you, but how do you know for sure?
This checklist will help you figure out if your company is ready for a marketing automation solution and, if so, how marketing automation can help increase your revenue through stronger marketing efforts.
Download the checklist now to discover if marketing automation is right for your company.