9 CPA Marketing Secrets Proven To Drive Leads
Download The Free E-Book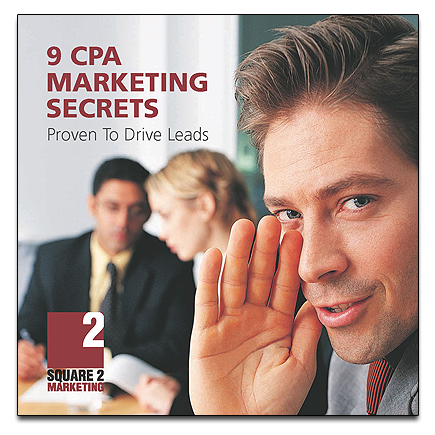 If you're reading this message, you understand: The old methods of marketing and advertising are no longer an effective means for attracting new clients for your CPA firm. Buyer behavior has changed – permanently. However, certain challenges present new opportunities.
Today's marketplace is driven by a new approach to marketing that's based on creating original, educational and optimized content, while sharing in a variety of ways across a variety of social media platforms. It's a content marketing plan based on strategy and highly targeted to the right buyer for your CPA firm that unilaterally avoids disruptive sales tactics that turn most people off.
Enter your email address to your right and we'll send you 9 CPA Marketing Secrets Proven To Drive Leads, an informative, free e-book that reveals everything you need to know to start an effective inbound marketing campaign for your firm.