How To Select The Right Keywords
In 6 Easy Steps
Search engine marketing starts with strategically selecting the right keywords for your website and content assets. It's critical to getting results from your marketing efforts.
Download How To Select The Right Keywords In 6 Easy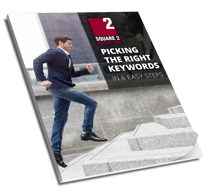 Steps to learn about:
Brainstorming the right keywords for your business
Using keyword research tools masterfully
Pairing target keywords with website pages and content assets
Complete the form to get your free copy of this guide.