Deliver Continuous Revenue Growth With These 34 Metrics

Download The Ultimate Revenue Metrics Checklist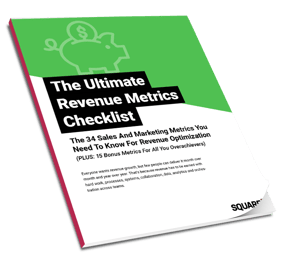 Delivering sustained revenue growth year over year is no small task. It requires hard work and cross-team collaboration. More importantly, it requires gathering, analyzing and leveraging the right data.
Download our checklist, The 34 Sales And Marketing Metrics You Need To Know For Revenue Optimization. You'll learn the data you should be using, including:
The cost per lead this quarter vs. last quarter
The percentage of sales opportunities that are getting proposals
15 bonus metrics for those who are serious about growing their revenue
Complete the form on this page to download the checklist now.