Applying Buyer Persona Insights
Download Your Free Checklist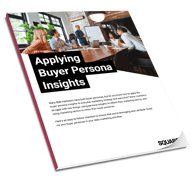 More than ever, marketers are struggling to apply persona insights to their marketing strategy and execution. Are you leveraging buyer personas in your everyday marketing tactics? Do you know what it takes to refine your persona building?
Read the checklist Applying Buyer Persona Insights and discover how to:
Identify the persona attributes that will directly inform your marketing strategy
Use marketing tactics to refine your buyer personas
Turn your persona building directly into revenue-generating opportunities
Download the checklist today to start leveraging all of the attributes found in your buyer personas.