How To Pair Account-Based Marketing (ABM) With Inbound Marketing To Win At Demand Generation
6 Tips To Win And Retain Target Accounts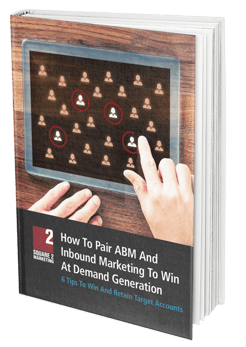 Account-based marketing is hot and inbound marketing is complicated, so how do you create campaigns that produce results quickly? In this comprehensive tip guide written specifically with demand generation in mind, you'll learn how to:
Evaluate your current marketing assets and know which new assets you need to make your ABM campaign perform beyond your wildest expectations
Strategically plan and launch a successful ABM strategy that is integrated with other important marketing initiatives
Track, test and create a set of upgrades that you can apply over the course of the campaign to keep driving a higher ROI
Recent research proves that ABM paired with inbound marketing produces better leads, more leads and more new customers. Here's your chance to learn what key aspects of an ABM program are required to drive this high performance. Fill out the form and start upgrading your campaigns today.