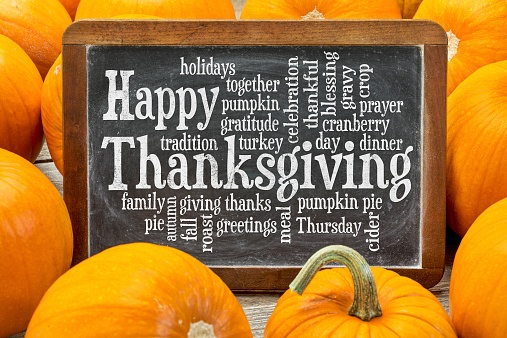 Inbound Marketing Became A Predictable Methodology For Lead Generation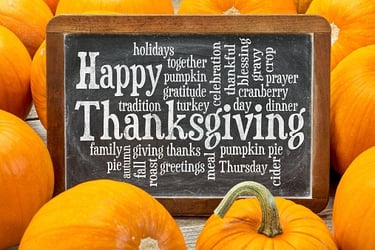 If you were smart enough to implement inbound marketing and inbound sales at your business this year, you probably have a lot to be thankful for this holiday season. Even if you're still in the optimization phase of your journey, it's likely that you've already seen an increase in leads generated, visitors to your website and improvements in your overall sales process.
Even if you'd like more visitors, more leads and a higher conversion rate – who wouldn't – you see the light and you know you're on the right path. You see how tweaking and tuning your inbound program contributes to improvements month over month and you know that going into 2016, you're finally going to have that Marketing Machine and Sales Machine you've always dreamed of having in your business.
Here are some of the reasons fans of inbound marketing and inbound sales are so thankful this holiday season.
The Timing
So many elements are coming together at the perfect time. Buyer behavior has changed and people are not interested in interruptive marketing anymore. Technology like ad blocker software, DVR, spam filters and caller ID are making it easier and easier for people to avoid bad marketing. Consumers today, in all industries, don't want to be sold; we want to be educated.
In addition, CEOs, business owners and VPs of Marketing or VPs of Sales are asking for more from their agencies. It's no longer okay to approach marketing from a siloed perspective, and more and more executives are starting to realize that delivering a new website is just the beginning. Press releases, new logos, emails and brochures are not enough to generate leads.
More directly, progressive businesses are starting to realize that their business is being judged by the experience they create for their prospects and that experience runs from the very first website visit all the way through to the signing of your agreement or contract. That click-to-close experience is defining the new inbound marketing and inbound sales deliverables.
The Tactics
For the first time in the history of marketing, you have all the tools and tactics required to create a repeatable and scalable Marketing Machine for your business. You know how to get found on the major search engines, on social media and on referring sites. You know how to engage prospects on the web to create an emotional experience within the first 10 seconds of their visit. You know how to convert them from visitor into lead and you know how to nurture them along their buyer journey, educating them until they're ready to say yes.
You have all the tactics, you know how to put them together, you know how to track them and optimize them over time. While creative is definitely a major part of this exercise, it's become much more mechanical and thus much more repeatable. The trick is in the optimization and the utilization of data to make decisions based on fact instead of opinion or assumption. You've always wanted marketing to deliver results and now you're in a position to deliver.
The Technology
Once you have your processes, systems and methodology down, then and only then should you be looking for technology to future streamline and deliver efficiencies. Applying software to bad processes and broken systems is a recipe for disaster.
The first tool to consider is software that automates the repetitive tasks associated with inbound marketing and inbound sales services. This application of technology should help your team work more efficiently, delivering more with less but also delivering in a much smarter way.
Not all automation software is created equally. If you're practicing inbound and you're all in on inbound, then you want the inbound principles represented in the software. If you simply want to automate more traditional marketing activities, then the type of automation software you apply might not matter as much.
There are other technologies to consider, too: software to help evaluate search engine optimization, A/B testing, social media performance, paid advertising and influencer marketing. One of the newest tools is Tap Influence, software that helps measure, automate and improve the efficiency of influencer outreach. Tools like this and others are popping up every week, so keep your eyes open but don't be distracted by the latest shiny software.
The Community
Having worked in travel, software, information services and IT, I've never had the pleasure of working in such a collaborative and supportive community until now. The inbound community is full of people who want to help, so you don't have to figure it all out on your own.
Today, there are a number of options for you to get help, even if it's just for a quick question or you need directional advice on whether to go left or right. Start collecting the contact info for people who are willing to help and reach out when you feel like you're stuck.
It's actually rare that all these elements are converging to present the perfect storm for businesses, allowing them to emerge from the world of impressions, market share, brand equity and "get your name out there." Going forward, we won't have to talk about "hope" as a marketing strategy packaged in a wrapper of creative. Now you can talk about business results and be sure that you have the tools, techniques and technology to deliver real revenue growth.
We all have a lot to be thankful for and I wish you and your family a very Happy Thanksgiving.
Start Today Tip – It's only going to take one simple shift for you to get your company on the journey we're discussing above. You simply have to admit that your prospects aren't looking for fancy creative anymore. They don't want to be interrupted seven times because that's what you always thought worked. Today, they want to be educated. They're smarter than ever before and they have access to information. The sooner you start moving your company down this path, the sooner you'll be able to take advantage of everything we, as inbound experts, have to be thankful for. The speed at which our industry is changing is going to increase – get ready to take advantage of those changes today.
Square 2 Marketing – Leading the Reality Marketing, Inbound Marketing and Inbound Sales Revolutions!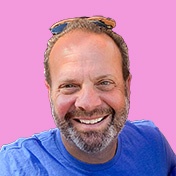 Mike Lieberman, CEO and Chief Revenue Scientist
Mike is the CEO and Chief Revenue Scientist at Square 2. He is passionate about helping people turn their ordinary businesses into businesses people talk about. For more than 25 years, Mike has been working hand-in-hand with CEOs and marketing and sales executives to help them create strategic revenue growth plans, compelling marketing strategies and remarkable sales processes that shorten the sales cycle and increase close rates.