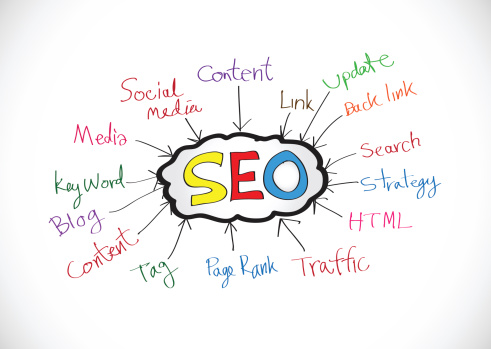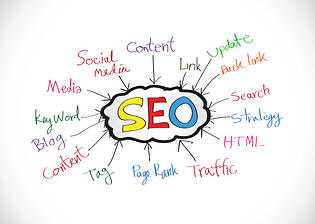 If this sounds like a major revelation to you, then you might not understand exactly how inbound marketing strategy works in relation to inbound marketing tactics.
Over the past few years, inbound tactics have become so intertwined with one another that it's almost impossible to dramatically impact results without every tactic in your arsenal firing on all cylinders.
When it comes to search engine optimization (SEO), so many inbound tactics affect your company's ability to get found. Your website and how you keep it current, your content strategy and the blog articles you publish, your social media program and your efforts to reach out to influencers – these all impact how you rank for keywords and questions.
Let's look at each of these inbound tactics and their impact on search engine marketing.
Your website
Your website is so integral to the performance of your marketing that you have to work on it every single month. The days of doing a site and then relaxing for a year or more are long over. You need to be looking at site performance and making a series of upgrades every month. Improving the visitor experience, enhancing the landing pages and changing up the placement of your call-to-action buttons to increase your sitewide conversion rate are just a handful of monthly efforts you should be expecting.
Your content strategy
The content you create has everything to do with how you rank for both keywords and contextual search. The key to performance in this area is planning and strategy. You need to know what keywords are important, but you also need to know what questions your prospects are asking. Then, you need a complete content marketing strategy that delivers content for keywords and questions. Skip this step, and your organic search results are sure to disappoint.
Your blog plan
One content tactic that spins off of your content strategy is your blog. You need to make sure that your blog articles support the long-form and premium content created in your content plan. You must also ensure that these blog articles include promotions for your premium content. This is the only way to use your blog as both a lead-generation tactic and a way to enhance search engine optimization. Using tactics efficiently like this does wonders for inbound performance.
Your social media efforts
Want to get found? Then you need content that gets shared. If you're not actively promoting your content on social media, who's going to know about it and share? And if your content isn't creative and remarkable, no one's going to want to share it anyway. But, inbound marketing needs more than just posts on social media. It needs active conversation starters. Your content strategy must consider how you're going to get your friends, fans and followers to talk about your company.
Your content publication plans
No single tactic is enough, so sharing needs support from a more active publication plan. You need to take your long-form content, like e-books, whitepapers and infographics, and actively publish it to places where your target prospects are already spending their time. This includes working to get guest blog opportunities, putting your content on LinkedIn and getting it into the right groups. But it extends far beyond these basic efforts. There are many, many websites, message boards and other online properties that would love to have educational, non-sales content to help them become even more valuable to their fans.
Your influencer marketing
Again, publication only gets you so far, and if you're looking for search results, you need to consider working with individuals who have high domain authority and large audiences. Getting them to promote your content or link to your pages drives huge results – in both website visitors and site ranking for keywords.
Long gone are the days of working with an SEO consultant to build backlinks to get you on the first page of the search engines. While backlinks are obviously one small part of helping you get found today, there are a wide variety of other activities that are just as important. Make sure you're taking advantage of all of them if you want to drive organic visitors to your site.
Start Today Tip – You have to look holistically at your marketing plan for 2015. Getting on the first page of any search engine is just the first step, and honestly, it does nothing to generate leads if no one ever clicks on the link. Evaluate your marketing to make sure that it includes enough content, that it has enough blog articles, that it utilizes social media properly and that your website is going to get the proper attention month in and month out to be optimized for both search and conversion.
Square 2 Marketing – Leading The Reality Marketing And Inbound Marketing Revolutions!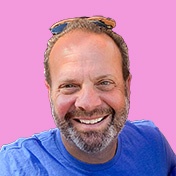 Mike Lieberman, CEO and Chief Revenue Scientist
Mike is the CEO and Chief Revenue Scientist at Square 2. He is passionate about helping people turn their ordinary businesses into businesses people talk about. For more than 25 years, Mike has been working hand-in-hand with CEOs and marketing and sales executives to help them create strategic revenue growth plans, compelling marketing strategies and remarkable sales processes that shorten the sales cycle and increase close rates.