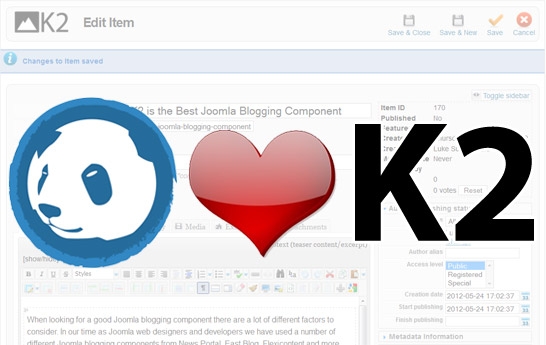 When looking for a good Joomla blogging component there are a lot of different factors to consider. In our time as Joomla web designers and developers we have used a number of different Joomla blogging components from News Portal, Easy Blog, Flexicontent and more. However, over the years the Joomla blogging extension that we found to be the best for our needs and the needs of our clients is K2 from Joomlaworks. In this blog, I will explain to you some of the benefits with working with K2 and why it may be a good solution for you.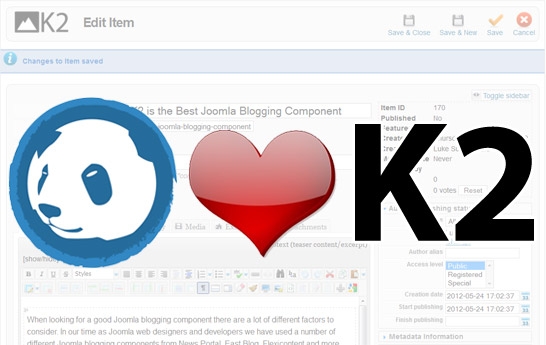 Before K2 launched, News Portal & Joomla Content was our main blogging component we used, but once the K2 component launched a few years back, we decided to try it on one of our websites and see how we liked it. Immediately I was impressed with the robust set of features and easy upgrading/templating that was great for me as a designer. We found K2 to be a great solution for blogging especially since K2 made it very easy for our clients to create and manage content on their own. Now, don't get me wrong, the standard content component for Joomla is fine for creating static content but does not offer the features and templating capabilities as K2. Here are some general points that make K2 great:
Robust views such as tag, category and author.


Ease of use for non techies and techies.


Frontend submission with access controls.


In K2 you are able to create as many templates as you want and assign them to various categories.


You can set up parameters for categories and have others inherit them.


The upgrade process for K2 is almost seamless because the K2 developers rarely tamper with the views.


K2 has a ton of very useful extensions available specifically for it now like slideshows, tab modules, sliders, the K2 store and more. You can find a huge list of them at this link on the Joomla Extensions Directory.


K2 makes it very easy for replicating stylesheets and templates to other sites if needed as a starting point. Instead of starting from scratch every single time, you can use template overrides (like you can with other extensions as well) and the K2.css stylesheet to quickly get you up to speed on a new site.


Best of all... K2 is FREE!
Joomlaworks also offers two other great extensions that integrate into K2 beautifully: Simple Image Gallery Pro and All Videos. These extensions allow you to add image galleries and videos to your K2 content or other parts of your site with ease.
K2 is a great solution for both content creation, user management and also easy for designers to style and modify (my favorite part).