Turn on the news, pick up the paper or walk down the street and you can't help but hear people talking about Apple. Right now the buzz is about the new iPhone scheduled for release on September 12. But look a little closer and you can learn a lot about marketing strategy from one of the best marketing companies on the planet.
Here are five takeaways from Apple for you to consider when working on the marketing strategy at your company.
Create a mission – The more focused you can get, the more targeted your marketing will be. Apple, more specifically Steve Jobs, decided early on that the company's mission was to change the way people interacted with technology: To make technology so easy to use that it would become a prominent player in the way we, as humans, interact with each other. While this is a monumental mission, it focused the marketing team at Apple and resulted in a series of revolutionary products.
Always have something to say – Marketing is about creating a series of integrated messages and telling a collection of compelling stories. These have to be thought out, planned out and spaced out. If you haven't noticed, Apple is regularly in the news with a variety of stories. That doesn't happen by accident. These stories are part of a coordinated communication plan that keeps Apple in the forefront of the public's mind. Your marketing strategy should include the same set of planned and sequenced stories. Every month your target prospects, partners, customers and other stakeholders should hear something positive about your business.
Make your customers raving fans – Easy to say, but hard to do. Apple created such a shift in the phone and tablet markets that they turned their customers into radical fans. You can do the same thing in your business. Look at the way you deliver your products or services and create a more remarkable experience. The result is an accelerant for your marketing. Now people are talking about your business, all the time, everywhere they go.
Leverage social media – What used to require personal interactions, now requires only a click of the button. If you have raving fans and they have something to say about your business, you can be sure they'll be saying it on Facebook, LinkedIn, YouTube, Twitter and other social media sites. These outlets can quickly become the super highway for the stories you created about your business. Keep in mind that the stories have to be worth talking about if you want people to share them.
Include the press – The traditional media machine has gotten a bad rap lately. Some people even going so far as to call it irrelevant given the emergence of social media, but if you consider the broader media community to include bloggers, pod casters and videographers, then a bigger picture of the press comes into focus. The press isn't dead, it's just undergoing a major shift and you need to be sure and make the new players a key part of your marketing strategy. The goal of using the media has always been to get your story out to more people. You can achieve the same goal if you include bloggers, podcasters, and people with YouTube channels in your media plan. So while the traditional media is still important, there are a lot of other media opportunities that can drive traffic to your website and create buzz for your business.
Start Today Tip – Perhaps the most significant takeaway from Apple's marketing efforts is that they have a plan and they work their plan every single day. If you don't have a 12-month marketing plan that you look at monthly then your business is at a significant disadvantage. Make sure your plan includes the sequence of stories you want to share with your target audiences and that you have leveraged social media outlets and new media players like bloggers in your plan.
Square 2 Marketing – Leading The Reality Marketing Revolution!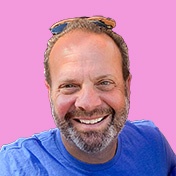 Mike Lieberman, CEO and Chief Revenue Scientist
Mike is the CEO and Chief Revenue Scientist at Square 2. He is passionate about helping people turn their ordinary businesses into businesses people talk about. For more than 25 years, Mike has been working hand-in-hand with CEOs and marketing and sales executives to help them create strategic revenue growth plans, compelling marketing strategies and remarkable sales processes that shorten the sales cycle and increase close rates.