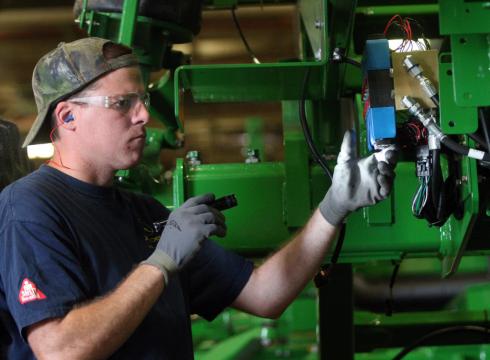 Assembly Lines Don't Work For Inbound Marketing Engagements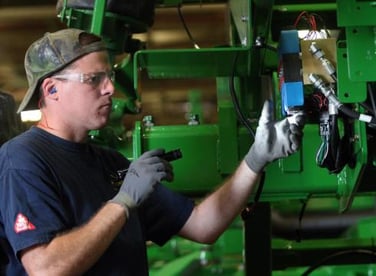 We've been doing work for a John Deere dealer, and yesterday, I had the pleasure of being invited down to Cary, NC, to spend the morning touring the John Deere factory. The experience was extremely enlightening, as they highlighted the checks and balances, efficiency systems and safety protocols designed to help John Deere produce a consistent and quality product over and over again.
That got me thinking about how inbound marketing can sometimes take on a factory or assembly line feel, as there are many tactics to be produced over and over again. However, it's crucial to remember that these blog articles, email campaigns and website pages are all unique. We're not trying to deliver the same product every time. So, the key learning here is that inbound requires a level of creativity, innovation and strategic thinking that must be woven into almost every aspect of the effort.
Here's how we ensure that we don't get into that factory mode with our inbound marketing programs.
Every Company, Every Industry Is Different
No matter how process-oriented we are, we've learned that every company and every industry is a little different. So, when you start applying inbound marketing to your company, keep that in mind. What worked for your friend at Company A might not work for you at your company, OR you might have to adjust that execution slightly to fit it in at your business and within your industry.
Every Inbound Marketing Program Is Different
No inbound marketing program is an exact duplicate of any other program. While the tactics might be similar, the deployment of those tactics is always unique to your business, your business goals and your specific business strategy. This is why the standard pricing being offered by some inbound marketing agencies should be a warning that you might be looking at a firm that has created cookie-cutter solutions for clients. They don't exist.
Every business needs a custom inbound program. You need one that is perfectly tailored to your business goals and your ability to execute. This is the best way to ensure that your investment in inbound marketing delivers to your specific expectations.
Every Tactic Needs To Be Adjusted Accordingly
Just as the overall program needs to be tailored company by company, so do the tactics. We don't suggest every client get one blog article a week. Some need four or five a week, while others might be fine with one or two per month. It depends on the current state of their marketing and their business goals.
Some clients need their website to be completely rebuilt, while others need help with their messaging and the application of content for visitors at all stages of the buyer journey. It's not about how nice the site looks; it's more about how effective the site is at connecting with prospects, helping them with their buyer journey and converting them into leads for your business. The website should have a quantitative measure of its effectiveness, not a qualitative measure of how nice it looks.
Data Drives Changes In Execution
Obviously, inbound marketing is 100% data-driven. This means you're going to want to respond with changes to your execution and plan based on the actual, real-time results from your tactics. This aspect makes the concept of creating a non-changeable assembly line contrary to the thinking around inbound.
Instead, you're going to want to take a more dynamic and agile approach to your efforts that enables your team to respond to the data, make changes to your program and even stop tactics that are not delivering results while doubling down on those that can produce even better results.
Changes Need To Be Implemented Weekly
Assembly lines, once they're set up, rarely change, and when they do, it's to accommodate major innovation or product changes. In the case of inbound, you want a much more dynamic environment, one that can change weekly if it has to. This enables you to respond to the actual performance data from your own marketing.
What worked last week can probably work better with a few minor tweaks or upgrades this week. You want your team to be looking at ways to increase their performance on a weekly basis. You won't always see improvements week over week, but by taking this continuous improvement approach, you should see month-over-month results.
The changes the team makes weekly are designed to ensure that by the end of the month, you've exceeded last month and your own performance expectations. Now you're compounding these small increases every month, and before you know it, you're looking at 200% to 300% improvements in all the key metrics, like website visitors, sales-qualified leads, sales opportunities and, ultimately, new customers.
Once you make the decision to take your marketing and go all in on inbound, you're going to realize that there are a number of challenging aspects. One of the most difficult is balancing the rinse-and-repeat nature of inbound with the creativity that inbound demands. You're not launching six months of ads, but you are planning and delivering six months of blog articles, educational content and email campaigns. These need to be delivered efficiently, but they also require the creativity to connect with prospects and turn them into customers.
For some CEOs, this balance takes a little bit of time to resolve. For others, it comes much more easily. The takeaway from the John Deere tour is that you need both efficiency and creativity, and those need to be based on the quantitative performance of your actual marketing. Remember, marketing today is more of a science and less of an art. Striking this balance can be tricky. But over time, it will get easier.
Start Today Tip – Understanding the processes associated with executing an inbound marketing program is tough for first-timers. This is where an inbound marketing agency can help. They've worked out the balance, and they understand what needs to get done, when it needs to get done and how to apply the right amount of creativity. If you want to go it alone, keep in mind that it's going to take you at least six months to figure a lot of this out on your own. Be patient and monitor the metrics. Eventually, you'll work out the right balance for your organization, and the results will follow.
Square 2 Marketing – Inbound Results Start With ME!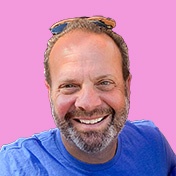 Mike Lieberman, CEO and Chief Revenue Scientist
Mike is the CEO and Chief Revenue Scientist at Square 2. He is passionate about helping people turn their ordinary businesses into businesses people talk about. For more than 25 years, Mike has been working hand-in-hand with CEOs and marketing and sales executives to help them create strategic revenue growth plans, compelling marketing strategies and remarkable sales processes that shorten the sales cycle and increase close rates.