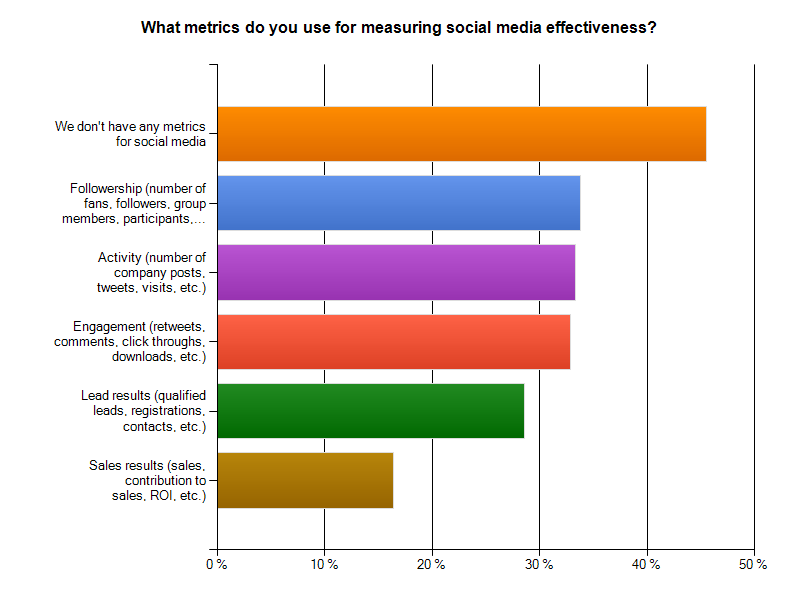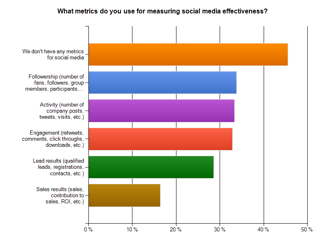 Managing your inbound marketing and social media by the numbers has never been easier. Yet, there are still many marketing executives and CEOs flying by the seat of their pants.
In the graphic here, you see that almost 50% of respondents still don't use any marketing analytics to evaluate their social media marketing.
The marketing metrics and analytics you need in order to make solid business decisions have never been more accessible and straightforward than they are today.
In this article, we're going to outline a handful of simple, easy-to-understand metrics for your social marketing efforts. Once you get access to this data, your new challenge will be to make sure the numbers go up month over month.
Here are the social media marketing metrics you should be looking at weekly and monthly.
Audience And Reach Metrics
This represents the number of people who have opted into your channels on social media. These are your LinkedIn connections, Facebook friends, Twitter followers, YouTube channel subscribers, Instagram followers, Google+ circle members and Pinterest followers. These are the people you have access to. We like to refer to this number as your reach. If you have something to say, you can reach these people with the click of a button.
This might seem like a frivolous or even cosmetic metric, but it's not. The number of people you have access to is a very important metric, and one that you should be tracking weekly. It directly correlates to the quality of information you're creating and publishing. The better your stuff is, the more people you'll have wanting to access it, which translates to more people signing up to follow, connect with and friend you. Treat this number and these people like company assets.
Since we're identifying this as an important number, the rate at which this audience is growing is also essential. So, audience or reach growth rate is something you should be tracking. Consider reviewing this metric monthly, and set a goal to grow it 10% each month.
Engagement Metrics
OK, now you're publishing information to your audience, but how many of those people are actually listening? The engagement metrics include the number of people who have viewed, downloaded, listened to, liked or commented on what you posted. As we mentioned above: The higher the quality of your content, conversations and stories, the more people you're going to see engaging.
You're looking for a two-way conversation on social sites. You don't want to simply publish without connecting to or engaging with your audience. The power of social media is that it's designed to start conversations, generate interest and share content. You want to make sure that all of your content includes conversation starters so that you're able to optimize your interactions with your audience.
It's not likely that you'll see an increasing engagement metric, but what you should be looking for are trends in the data. These trends should show you what kind of content engages best and what types of conversations your audience is most interested in. This needs to drive your engagement strategy so you're providing more and more value to your audience, moving up the audience numbers and keeping the engagement rates high.
Sharing Metrics
One of the major benefits of social sites is the access to everyone else's social networks. That's why the third key metric here is sharing. You want to keep tabs on how often your content is being shared, retweeted or mentioned by one of your fans. The major reason why this metric is so important is that it's a precursor to getting a larger audience and growing reach.
Here is a quick illustration: You have 1,000 LinkedIn connections, and you publish an article to all of them. Two hundred of them view it, and 100 share it with their networks. If the average network has 400 connections, you just got access to 4,000 new people. Not all of them are going to read it, but if just 10% liked your content and came back around to your LinkedIn page or your website, that's 400 new audience members from a single article. Not too bad.
Sometimes, our fans need to be reminded to share. There is a ton of data that supports this. Tweets get retweeted 12x more often if you ask for it, and 23x more often if you spell out the word "retweet." Take the extra time it takes to include this request in your tweets – maybe not all of them, but at least the ones you think are the best or most important.
Visitor And Lead Metrics
Finally, we'd be remiss if we didn't cover perhaps the two most important metrics. Visitors to your website and leads for your sales team are both critical numbers associated with social marketing. They are the basis for almost everything we do. If we can't generate business activity that directly impacts sales, what's the point? Both of these metrics are very easy to track, and you should be looking at them weekly.
Get in the habit of tracking all of these numbers, and you're going to see dramatic improvements in them. There's a direct correlation between what gets tracked and what gets improved. You'll quickly notice that once you start watching these numbers, you'll start talking about them, too. And then they'll increase over time. Remember, it's not critical that they jump up month over month, but rather that they show small increases that are sustained month over month. Then, after 12 months, you've doubled the major metrics, and after 24 months, you've achieved a 10x improvement in every category.
Start Today Tip – You should be able to access these data points with almost no effort. Today, marketing dashboards and analytics packages should allow real-time access to each of these metrics. If you don't have that now, make this your first task. Once you get it, set up daily and weekly review points. Meet with the team that's responsible for these numbers. Assign them out, and after you review them, assign one or two action steps that positively affect the numbers. You'll have a metrics-driven, action-oriented marketing effort that is proven to deliver results.
Square 2 Marketing – Leading The Reality Marketing, Inbound Marketing And Inbound Sales Revolutions!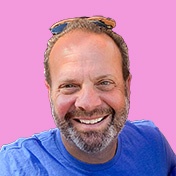 Mike Lieberman, CEO and Chief Revenue Scientist
Mike is the CEO and Chief Revenue Scientist at Square 2. He is passionate about helping people turn their ordinary businesses into businesses people talk about. For more than 25 years, Mike has been working hand-in-hand with CEOs and marketing and sales executives to help them create strategic revenue growth plans, compelling marketing strategies and remarkable sales processes that shorten the sales cycle and increase close rates.