You've mastered blogging, social selling, and inbound selling. Now it's time to improve your phone performance. Love or it hate it, selling over the phone is a major part of being a sales rep. And let's face it, you probably hate it. It can be very difficult to capture attention and influence buyers on the other end of a phone. But since selling over the phone is likely one of your major responsibilities, it's a skill that you need to perfect.
Check out what every sales rep needs to know.
Qualities You Need
Effectively selling over the phone is a lot easier when you have enthusiasm and are eager to discuss, when you're patient and ready to listen, when you have a real passion for what you're talking about, when you're confident and comfortable, and when you have a sense of humour.
Trust us, the person on the other end of the phone will be able to tell when you're smiling, when you're pumped up about your offers, and when you have confidence. These are qualities that every sales rep must have because they command attention, even though they're subtle. When you smile, you end up speaking at a higher frequency, which reassures the listener, and it's a lot harder to say no to someone who's smiling.
The Pre-Call
As an outbound sales rep, you might have to make a certain number of calls in an hour or in a day. But rushing through the calls to get to the next number won't set you up for success. Before you even pick up that phone, you need to put some thought into the call. Consider what you want to achieve, make sure you're prepared with questions to ask, prepare answers to those likely questions, use a voice recorder to practise, and prepare to visualize the caller that you're talking to.
Your Voice Tells All
If you're rushing and mumbling through a sales script, the person on the other end of the phone might not even be able to understand what you're saying. If you're clearly miserable, the tone will indicate this mood. When it comes to selling over the phone, you need to use your voice effectively. Sit up straight with the mouthpiece an inch away from your mouth for the most accurate sound and volume. Go at an even pace—don't rush. Use the right volume and speak clearly to make sure you're understood. Use a happy and eager tone to convey your excitement and friendliness.
Influencing the Buyer with Gestures
When a sales rep is giving a sales pitch at a meeting, he will talk with his body to convey his message.
Use a headset and do the same thing when selling over the phone. The more you use your hands, use gestures, and talk with your body, the more vocal range you use. When you use gestures, your facial expressions naturally change, and these expressions change your voice—in the end, people can hear the difference.
Using a Script Successfully
Many sales people use scripts to guide them while selling over the phone. If you're still not comfortable winging it, then make sure you're using your script successfully. Avoid common sales phrases and clichés—you'll just turn off the prospect. Edit your script to ensure that it suits the vocabulary that you would normally use, so it sounds more natural. And for the love of god, don't read off the script in the call. Read it ahead of time and reference it, but that's it.
The Best and Worst Time to Call
If you want to boost your chances of successfully selling over the phone, then call at the right time, not the worst. Tuesdays should be avoided as should the hours of 11am and 2pm. Thursdays are the best days to call—and make sure to pick up that phone between 8 and 10am or 4 and 5pm for best results.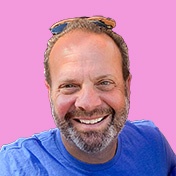 Mike Lieberman, CEO and Chief Revenue Scientist
Mike is the CEO and Chief Revenue Scientist at Square 2. He is passionate about helping people turn their ordinary businesses into businesses people talk about. For more than 25 years, Mike has been working hand-in-hand with CEOs and marketing and sales executives to help them create strategic revenue growth plans, compelling marketing strategies and remarkable sales processes that shorten the sales cycle and increase close rates.