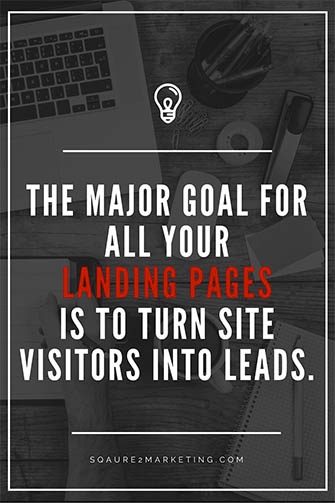 This is an updated version of a blog article that was originally published in March of 2012. This blog explains the difference between a website home page and a landing page. So much has changed that we thought our readers would appreciate a refresh.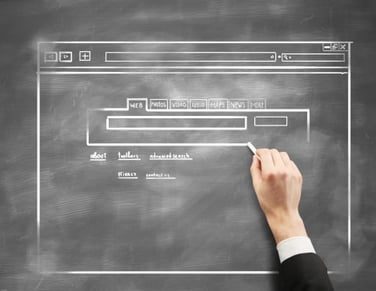 Understanding the difference between a website home page and landing page or the difference between a home page and a content page is significant these days. Using these different page types appropriately is mandatory for an inbound marketing website if getting leads from your website is important to you.
Home pages have different goals than your content pages and landing pages do. Today, every page on your website needs to have a strategy, quantitative goals and a very specific business orientation if you want your site to get found and drive leads for your company.
As I mentioned in a post from early last week, every single page on your website needs to have a role in the prospect's buyer journey. So, to give you context on the website design conversation, you want to have pages for people in the Awareness stage, in the Consideration stage and in the Decision-Making stage.
These pages need to be efficient at answering the questions your prospects have at each stage in their journey. If you practice Agile marketing and apply this strategic approach to your ongoing website upgrades, you'll improve search engine rankings and drive more leads from your website.
What Is A Home Page?
Think about your home page like the front door of your home. People make judgments when they arrive at your home. They quickly look around to get to know you, and they're seeing if they can relate to whom you appear to be. Think: first impressions.
The same holds true for your home page. Google and Microsoft Research both report that most people spend 10 seconds or less on your home page before making the decision to hit the back button or to look around more. This means your visitors need to do a lot in a little amount of time.
They need to understand what you do and how you could help them. They need to see that you understand their challenges and have solutions. They should see how you're different from all your competitors and that you've helped other people like them. Take note of the language: Your home page needs to be about your prospects, NOT about you.
The home page's goal is to disrupt their status quo, emotionally connect with them and direct them to either convert with educational content or move directly through your site to learn more. Yes, that's a lot in a very short amount of time.
Typically, home pages are for prospects in the Awareness stage, but not always. So, the messaging and offers need to reflect that. That's why your home page is critical to your inbound marketing effort. This is why you need to take your time in creating a home page that delivers results and then continuously optimize over time to make sure the results improve month over month.
What Is A Content Page?
Content pages are the pages that continue the story. These are usually designed and written for visitors in the Consideration and Decision stages. To use our site as an example, when visitors hit our home page, they hear a story. When they want to learn more about inbound marketing, Agile marketing or inbound sales, they hit our content pages to learn more.
Content pages have offers that are specific to the content and stories on those secondary pages. These pages are often (but not always) the pages that are search engine-optimized for important keywords, keyword phrases and contextual search terms.
To continue the conversation about our own site, the three pages referenced above are the pages we're attempting to rank for with "inbound marketing," "Agile marketing," "inbound sales," "what is inbound marketing," "what is Agile marketing" and "what is inbound sales."
Try to think about these pages as the second act in a three-act play. The first act was the home page, the second act is the content page and the third act is the landing page, which we'll talk about next. Your website needs to tell a story, and these different pages help with the story's beginning, middle and end.
What Is A Landing Page?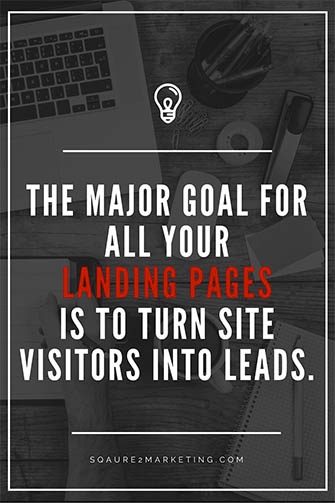 Landing pages have one major objective and one minor objective. The major goal for all your landing pages is to turn site visitors into leads. It's the end of the story, as I referenced above. Visitors have been to the site, they've seen your story and they found additional educational content they want and need. The landing page has to be highly efficient at taking them through the final step and converting them into a lead for you to nurture.
Because of this, the page is designed with conversion in mind. It tells a short and succinct story to get the visitor to know exactly what they're getting. It shows them a picture of what they're going to get, and it makes getting their content simple (so keep your form short and sweet). There is no navigation because we don't want them going anywhere else, and the copy has to be super compelling.
Landing pages and home pages have different conversion rate expectations. Landing pages should convert at the 20% to 40% range and should be included in the ongoing optimization effort to continually improve this rate. This is one of the best kept secrets to improving inbound program performance month over month.
The minor objective is related to search. Landing pages are also excellent resources for on-site search engine optimization, so you're going to want these pages to be highly optimized. You want them to rank because you're sending people to these pages from their searches and giving them a chance to convert into leads with a single page visit. That's highly effective inbound marketing.
The way search engines rank pages means the more people convert on a page, the higher it will rank. So, don't underestimate the effort to create highly ranking landing pages. The key takeaway: When you work on your new inbound marketing website, make sure you're taking a different approach to the different types of pages on your site.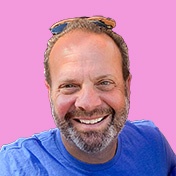 Mike Lieberman, CEO and Chief Revenue Scientist
Mike is the CEO and Chief Revenue Scientist at Square 2. He is passionate about helping people turn their ordinary businesses into businesses people talk about. For more than 25 years, Mike has been working hand-in-hand with CEOs and marketing and sales executives to help them create strategic revenue growth plans, compelling marketing strategies and remarkable sales processes that shorten the sales cycle and increase close rates.