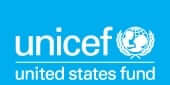 Nonprofit marketing has always been of interest to me, because it's a unique extension of traditional marketing goals. Rather than customers, we seek donors. Rather than profits, we measure positive impacts made. As social media has taken the marketing world by storm, savvy non profits have wasted no time leveraging the power of digital connections to tell their stories. UNICEF is a great example of a major nonprofit utilizing social media, and specifically Facebook, to make personal connections to drive donations, awareness, and participation.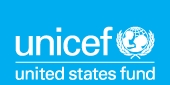 With that in mind, it's worth taking a peek into the world of UNICEF's Facebook page to see what theyr'e doing well, and how you can emulate their success on your nonprofit's social networks.

Before we dive into their Facebook page, let's look at a quick snapshot of UNICEF's current standing (information via GuideStar):
Mission statement: "UNICEF was founded in 1946 to help children in postwar Europe, China, and the Middle East. Today, as the United Nations Children's Fund, it serves children and families in developing countries worldwide and depends entirely on voluntary contributions. The U.S. Fund for UNICEF was established in 1947, the first of 36 National Committees set up globally to support UNICEF through fundraising, education and advocacy. Since its inception, the Us Fund for UNICEF has provided UNICEF and various NGOs with $4.4 billion in cash and gifts-in-kind."


2010 - 2011 revenue: $455,992,769 | 2010 - 2011 expenses: $446,925,075


UNICEF has earned a Silver-Level Guidestar Exchange status, meaning they've demonstrated a commitment to organizational transparency
Now that we have a little background, let's get a closer look at how UNICEF is utilizing the world's largest social network as a channel to communicate and drive change.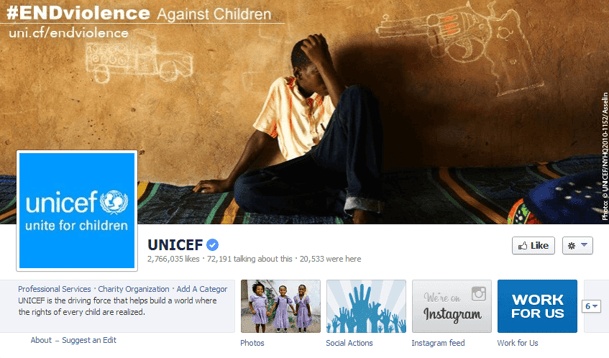 Facebook is the first social network linked on UNICEF's website homepage, and also constitutes the vast majority of their social reach with over 2.7 million likes.

While we could attribute their high like count to basic brand recognition, such a statement would overlook the incredibly well implemented strategy the organization is exemplifying on their page. Among other facets, the UNICEF page abides by (and expands on) standard Inbound best practices to earn not only likes, but high engagement on Facebook:
Visual Storytelling

One of the essential elements of success in all areas of nonprofit marketing is the use of strong imagery.

If UNICEF uploaded a status stating that all forms of violence harm a child's wellbeing, the message would be clear. But when they upload an image depicting child voilence, the emotional response is harrowing. It takes the message beyond the confines of words, and truly tells a heartwrenching story with the use of photo.


In addition to visually engaging posts, they've added an integration with Instagram account to display their photo shares. This is a great addition to any Facebook page and can be easily implemented utilizing a 3rd party called Statigram.


Scalable Engagement

Responding to posts and conversing with followers can be tricky for nonprofits and businesses alike that have large audiences. With over 72 thousand people "talking about" the UNICEF page and cause on Facebook, the organization certainly has it's work cut out for it when it comes to staying on top of user responses and questions.

UNICEF handles this in a distinct way: when a user posts a comment which affects either the community or potentially calls the organization's initiatives into question, they respond in a timely manner with resources addressing the issue. But they don't just respond to the negative comments; UNICEF also prioritizes responding to mass flows of positive feedback with encouraging words and calls to action prompting their audience to get involved even further.



Staying In-the-Know

Although it's pesky, making a commitment to staying up-to-date with themes of discussion and uses of social media is pivotal to building a social presence which commands respect and drives action online.

UNICEF certainly keeps up on trends, as is demonstrated with their consistent use of Facebook's new hashtag feature and their nods to technological themes. These little nods to current events and themes build an organizational identity characterized as relevant and engaged with their audiences day-to-day life, which in turn positions the organization as a more desirable cause to get involved with.

As an added payoff, utilizing branded hashtags creates vast opportunities for nonprofits to increase their visibility through user generated content and searches.


Consistent Calls to Action

Despite this best practice's closing placement on our list, it's far from least important. From status updates to cover photo captions, UNICEF seizes every opportunity to direct users to donation, information, and action pages for their initiatives. Although elements like visual storytelling and engaging with users are great, they don't add up to a lot of action if a page doesn't effectively drive users to their actual website.

This is where the true power of Facebook (and all social media) lies for Inbound organizations from 501(c)(3) to Fortune 100. While branding is great, the ability to drive actual conversions on social media is the true instrument of change.