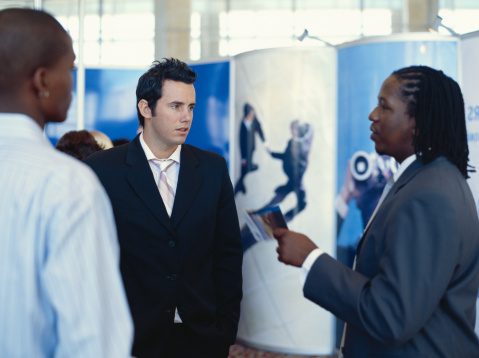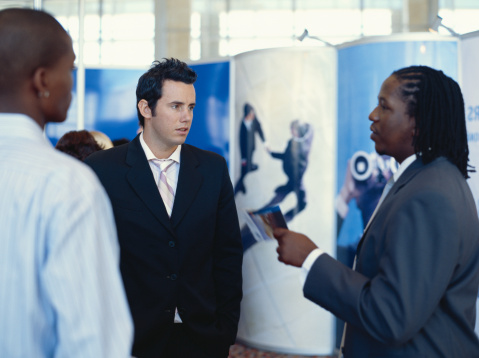 Many of you still make trade shows a key part of your marketing strategy.
Did you know that there is a way to turn this traditional, interruptive outbound marketing tactic into a highly effective inbound marketing tactic?
Think about the traditional trade show experience from your perspective. You sign up months in advance and try to be clever by selecting the right spot on the show floor. Maybe you even go for one of their sponsorship packages to give your business some extra "exposure." Your team shows up the night before to get the booth set up, arrives five minutes before the show starts, stands around until the show ends and then packs up and goes home.
Back in the office, you ask the age-old questions: How was the show? Was it worth it? Should we do it again? Likely, the response is: I guess so. We got a couple of leads. Are you serious? You let this go on year after year, show after show.
The Trade Show Institute estimates that your effort as a whole costs three times the price of the exhibit space. So if your exhibit space is $5,000, it costs you $15,000 to be at the show. I've done shows in which the booth space was $15,000, which means the total cost was around $45,000. That's a lot of money for I guess so. We got a couple of leads.
If you're investing $45,000 in a marketing tactic, you better be sure you're getting $450,000 in potential business from it.
Here's how to turn your trade show program from ordinary to extraordinary.
Get a plan, and get it early. You have to start planning early enough to execute the tactics that drive people to your business and convert them from walking zombies to prospective customers. You might have to negotiate with the show organizers for things that are not included in the standard sponsorship package. Set goals for the show. And by goals, I mean specific, quantifiable, numeric targets for lead acquisition and sales opportunities. In some cases, set these by the hour, ensuring that everyone at the show is on the same page.
Do pre-show, in-show and post-show marketing. Once you create your plan, make sure you have enough access to attendees to promote your planned events before people arrive, when they arrive and then again when they get home. With this three-tiered approach, you're going to have people looking for you before they get to the show and while they're walking around the show floor, as well as remembering to follow up with you afterwards.
Develop original, educational content for the event. The rules of inbound marketing and content marketing apply even at events. Create educational content that's going to draw people to you. If you understand the questions attendees ask at the show, you're able to answer them with whitepapers, e-books, infographics or videos. Enable people to get that content at your booth.
Collect leads and nurture them. It's not enough to speak with someone at the show or get their card. It's what happens after the event that differentiates you from your competition. Most people forget to do anything they promised at the show. By sending out additional information, nurturing your leads and treating them to an amazing post-show experience, you put your business in a position to win them over as a customer.
Ditch the "swag" and the collateral. Yep, you heard me: Forget the crap you give away. How many times have you seen people walking around with bags, collecting stuff to take home for their kids? How many times have you done that? Just forget it. You don't need it. And guess what? You don't need any collateral either. Save money on both, and make it your job to follow up with prospects after the show by sending materials electronically. It saves them from having to carry it around and bring it home, and it gives you a reason to follow up.
Get creative. Just because you don't have any stress balls, pens or collateral material to hand out doesn't mean you can't be creative and deliver a remarkable experience to show attendees. Come up with a theme that matches your messaging, one that clearly communicates what you do and why people should care. Then deliver it with pizzazz.
Bake fresh cookies at the show. The smell alone is going to bring people by. Try an invisible vault with $10,000 that goes to the person who guesses the lock combination (you're able to rent the entire package for about $175). Or schedule a big announcement during the show and invite press, attendees, customers and prospects to come by for it. If done right, each of these ideas could get you a huge crowd of people. As long as you collect all of those email addresses, you've got a guaranteed winner on your hands.
Create incentives. Most of the time, it's sales and marketing people who man these events. Give them an extra incentive to step out from the booth and engage with the attendees. Set some aggressive goals, and offer a bonus if they get more leads than you expected. Offer a bigger bonus if the sales from those leads top revenue expectations. Remind them in the morning, in the afternoon and at dinner of how they are doing against the targets, and make sure those goals are achieved or surpassed by the end of the show.
To be honest, we generally tell our clients to skip trade shows altogether. But if you insist on doing them, you might as well do them well. Implement these quick fixes, and you'll find a much higher return on your trade show marketing investment than if you stick with what you've been doing all along.
Start Today Tip – Pick an upcoming show with enough runway to implement some of these changes. Look back at what you got from the show last year and multiply it by five. That's your goal for this year. Now, get to work: What is your theme? How are you going to tell everyone what you're doing and why they need to stop by? Start working on the content that is exclusive for people who stop by to visit you. What is your plan for after the show to ensure that the people you meet receive ongoing communication? Finally, who's going to the show? Take only your A-players who are sure to execute. If you're going to go, you might as well go big.
Square 2 Marketing – Leading The Reality Marketing And Inbound Marketing Revolution!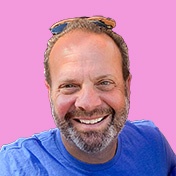 Mike Lieberman, CEO and Chief Revenue Scientist
Mike is the CEO and Chief Revenue Scientist at Square 2. He is passionate about helping people turn their ordinary businesses into businesses people talk about. For more than 25 years, Mike has been working hand-in-hand with CEOs and marketing and sales executives to help them create strategic revenue growth plans, compelling marketing strategies and remarkable sales processes that shorten the sales cycle and increase close rates.