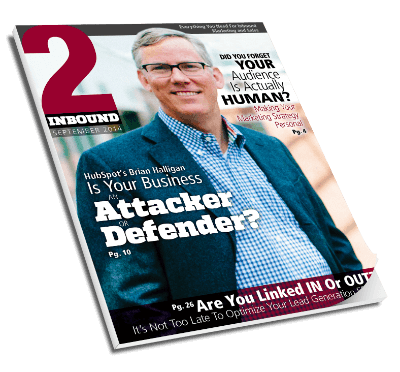 I'm just back from Content Marketing World, and much of what I've heard has resonated with a lot of what we've been saying for the past year or so.
You won't be effective in executing content marketing if you don't have a strategy behind you, and you need a process for creating all the content that's required to drive results.
I also heard that businesses have to think like a publisher. Last December, we published this post that started the conversation, and today, we took a major step towards taking our own advice. If you didn't already know, "Practice What You Preach" is a core value at Square 2 Marketing.
So, it's fitting that today we are announcing the launch of our new e-magazine, 2Inbound.
2Inbound is being published with a variety of key goals and objectives in mind.
First, the practice of inbound marketing is in its infancy. While there are many people, businesses and technologies that support inbound marketing, there are very few who are 100% confident in knowing exactly how to generate leads with it. This magazine's mission is to help CEOs and marketing execs feel comfortable, educated and in control enough to use inbound marketing as their primary methodology to drive sales in 2014 and beyond.
Today, the world is inundated with whitepapers, e-books, infographics, presentations and tip guides. This content is often distributed as independent pieces with little or no connection to other content or conversion opportunities. 2Inbound was created as a form of electronic educational content with not just one, two or three places for people to click and convert, but many, many more. Our goal: generate more leads – not for us, but for everyone participating in the magazine.
Should you subscribe, you'll also see that we've integrated video and other interactive tools directly with our content, further creating a richer, more engaging and emotionally powerful content experience for our community.
The science of marketing requires that we test everything with our own company before offering it to our clients. Staying true to that approach, we have every intention of sharing our results with you in 2Inbound. This magazine isn't about Square 2 Marketing.
We are opening 2Inbound up to anyone and everyone who has something to share. Other agencies, technology firms and practicing inbound marketing pros are all welcome to submit articles and information to the magazine for publication and distribution. If that sounds interesting, click here to submit anything to our editors.
Finally, there is one more objective for the magazine: We are going to be testing a new advertising payment model, one that isn't based on impressions, but rather on actual performance of all the advertising in 2Inbound. Our goal is to set a new standard for how you pay for and measure advertising. The ads you see in the magazine are all performance based for the advertisers. For more information on this innovative advertising payment program, click here.
We have big plans, not only for the magazine, but also for our industry and the entire media community. If we are successful, you might never have to buy or sell your clients an impression-based ad again. So, join us in our journey, and be part of a revolution that's changing everything about how you market and sell your company's products and services.
If you like the ideas in this article today, click here to subscribe to 2Inbound. This subscription is free for a limited time only.
Square 2 Marketing – Leading The Reality Marketing And Inbound Marketing Revolution!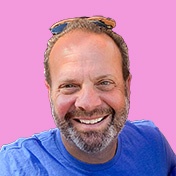 Mike Lieberman, CEO and Chief Revenue Scientist
Mike is the CEO and Chief Revenue Scientist at Square 2. He is passionate about helping people turn their ordinary businesses into businesses people talk about. For more than 25 years, Mike has been working hand-in-hand with CEOs and marketing and sales executives to help them create strategic revenue growth plans, compelling marketing strategies and remarkable sales processes that shorten the sales cycle and increase close rates.