We've reached the halfway mark of our #Countdown2Inbound, our list of 100 inbound marketing and inbound sales tips leading up to HubSpot's annual user conference, INBOUND 2016. It should be noted that all of these tips are strong on their own, but when used together, amazing things can happen. Inbound marketing is all about testing, trying new things and applying newfound lessons as you go.
Read below for a recap of the first 50 inbound marketing tips in our #Countdown2Inbound campaign.
Make sure to follow us @square2 as we count down the remaining 50 tips leading up to INBOUND 2016.
100) This blog kicked off our #Countdown2Inbound. Get 100 inbound marketing tips in 100 days by following us on Twitter @square2!
99) Infographics work best to illustrate data-heavy stories and simplify complex processes through visualization.
98) Conclude blogs with a graphic call-to-action banner; banners perform better than buttons.
97) Use subheads and bulleted lists for people who prefer to skim before reading carefully.
96) Compile top-performing blog posts into a best-of-the-blog email.
95) Create at least one offer for each stage of your personas' buying journeys.
94) Include different types of media based on your personas' learning styles.
93) Include at least two images in every blog post to make your posts more shareable on social media.
92) Use types of user intent (informational, commercial, transactional, navigational, local) to inform keyword research.
91) Increase landing page conversion rates by using exit-intent pop-ups.
90) Make sure your audience understands how your products or services benefit their lives, lifestyles and values.
89) Split keywords into successes (rank 1-10), improvements (11+) and new opps to drive content optimization/creation.
88) Progressively prompt users for more contact information as they move through their buyer journey.
87) Use the hub-and-spoke marketing model to inform your content strategy.
86) Combine inbound marketing and Agile marketing to empower your marketing team to cycle faster.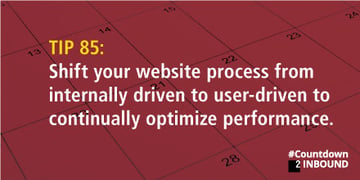 84) Create a content strategy centered around your prospects' most acute pain points.
83) Leverage a strategic PPC program to jump-start inbound marketing results.
82) Use heat-mapping analytics to help prioritize website improvements.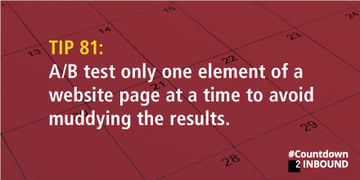 80) Include video content on your website pages to increase your users' time on page and time on site.
79) Include social sharing icons on your blogs and other inbound marketing content.
78) Explore collaboration and credible guest publication opportunities to drive up referral visits.
77) Use a PIE analysis to prioritize conversion rate optimization (CRO) projects.
76) Attach a SMART goal to every inbound marketing initiative.
75) Create automated lead-nurturing workflows to move prospects through your sales funnel.
74) Apply an inbound sales methodology to nurture and convert inbound marketing leads.
73) Require a business, not personal, email address to improve the quality of your leads.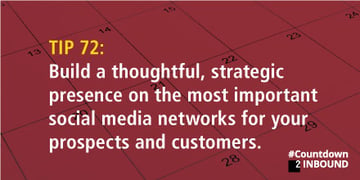 71) Organic traffic growth = user intent marketing (click-through-rate optimization + task completion).
70) Publish your inbound marketing content in the places where your prospects consume content.
69) Install call-tracking analytics for better closed-loop reporting on the success of your inbound marketing program.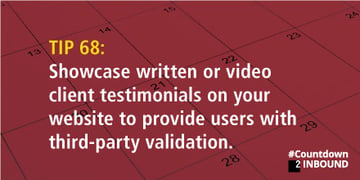 67) Create premium content offers out of your most widely consumed and highest-converting blogs.
66) Test plain-text vs. HTML emails to gauge what your readers respond to best.
65) Use lead scoring to more accurately qualify leads for your sales team.
64) Select the best marketing automation software for your business and marketing goals.
63) Include both informational pages and landing pages on your inbound marketing website.
62) Don't forget about off-site SEO!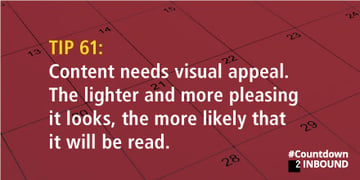 60) Don't start inbound marketing tactics without a strategy; that's like baking a cake without a recipe.
59) Use experience mapping on your website to provide an optimal user experience for your prospects.
58) Audit and map your existing marketing content to figure out where gaps and opportunities exist.
57) Test text-based CTAs against image-based CTAs to determine which is the winner among your blog readers.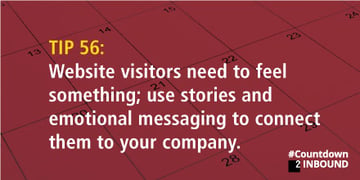 55) A confusing website will suffocate site-wide conversion rate.
54) New content is not final once it's live. Experiment often.
53) Incorporate snippets of social proof on transactional web pages to increase conversion.
52) Create and apply unique tracking URLs to measure the performance of your inbound marketing campaigns.
51) Connect with influencers in your area of expertise and invite them to collaborate with you.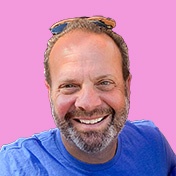 Mike Lieberman, CEO and Chief Revenue Scientist
Mike is the CEO and Chief Revenue Scientist at Square 2. He is passionate about helping people turn their ordinary businesses into businesses people talk about. For more than 25 years, Mike has been working hand-in-hand with CEOs and marketing and sales executives to help them create strategic revenue growth plans, compelling marketing strategies and remarkable sales processes that shorten the sales cycle and increase close rates.